It's not too late to make an easy, tasty snack for Chanukah. The Jewish Festival of Light which began Nov. 29, 2021, is an eight-day celebration. You can coat matzo in chocolate for a simple bark by merely melting the chocolate chips in the microwave, spoon on, spread and refrigerate. But to coat the matzo in toffee you need to caramelize butter and brown sugar before pouring on. Here is a yummy toffee recipe. (Add chopped nuts before refrigerating if you like a crunch.)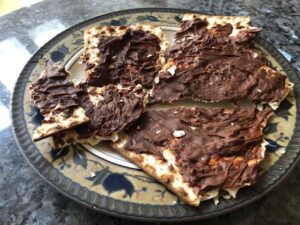 Preheat oven to 375 degrees
Line a 10 x 15 baking (cookie) cookie sheet with foil or parchment. Spray or lightly brush it with cooking oil or pam.
Ingredients
Four Matzo boards (slices)
1 1/2 c unsalted butter
Firmly packed cup of dark brown sugar
Directions
Mix butter and brown sugar in a saucepan for 3 minutes or microwave them together for 30 seconds.
Pour the caramel mixture of melted butter/sugar over matzo and spread., Heat the cookie sheet in the preheated oven for 3-5 minutes minutes. Take it out and pour a 12 oz. bag of semi-sweet chocolate chips over the matzo. (I like Nestle or Guittard)
Spread with spatula
Refrigerate until hard
Break into pieces.
Plate the treat. Can be covered with waxed paper to keep fresh until all gone
Options: 1 . Sprinkle chopped nuts such as pecans on half the melted chocolate, or 2. Melt white chocolate and pour over half the matzo or drizzle it over the dark chocolate.