Instead of spending Thanksgiving in the kitchen, make the holiday easy this year by eating out or taking out. Such options allow time to watch Thanksgiving Day parades.
Celebrate the day by going around the table saying what each of you are thankful for. That table can be at a restaurant, resort or laden with food ordered from a grocery store.
Restaurants are taking reservations and grocery stores are taking orders. Here are some ideas and suggestions:
Resort
Spending Thanksgiving here not only means no cooking and mess, the resort will be dressed for the holidays and feature winter-time events. The meal can be family style, plated or buffet and offers alternatives for non-turkey lovers such as the ChopHous'e prime Rib. Lunch options and pricing here; evening dining times menus found here. Grand Geneva is at 7036 Grand Geneva Way, in Lake Geneva, WI. Call (262) 245-7620 for Thanksgiving and (262) 248-8811 for the resort. Visit Grand Geneva Resort & Spa Thanksgiving Day.
Hotel Restaurant
Check with a hotel you like because most are hosting Thanksgiving dinners. Among those downtown Chicago is the I|O Godfrey in the Godfrey Hotel at 127 W. Huron St. The hotel has a buffet with several stations and is doing dinner to go. Deposit-secured reservations for the buffet dinner are available from 11 a.m. to 6 p.m. via iogodfrey.com/thanksgiving/. Seating is available indoors and heated outdoors. To place a Thanksgiving To-Go order, call (312) 274-1830 or visit online for more information.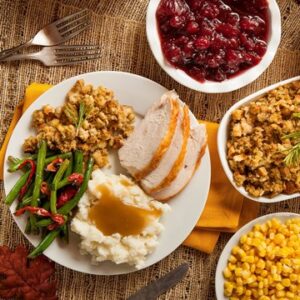 Restaurants
Bistronomic at 840 N. Wabash (Mag Mile)
Thanksgiving (theroanokerestaurant.com) 135 w Madison West Loop
Bub City is doing Thanksgiving to go from its Chicago restaurant on Clark St. and in Rosemont.
Grocery Stores
Because the groceries have more than one location, choose the state (where that applies) and town to order or find out what is available. The stores have dinner packages and just trimmings.
For an example visit Sunset Foods Highland Park
For more ideas visit Whole Foods Deerfield.