Unless you make a reservation a couple of months before you go to Door County you may not get into Wickman House, the hot new restaurant in  Ellison Bay on the northwestern side of the peninsula. A historic property opened by the Wickman family as the Ellison Bay Lodge in 1921, Wickman House has kept its historic ambiance while creating dishes that honor the past, local sources and gourmet pallets.
But the good news is that Trixie's, its little sister restaurant at Ephraim in the middle of Door County's bay side, doesn't take reservations so you have an excellent alternative.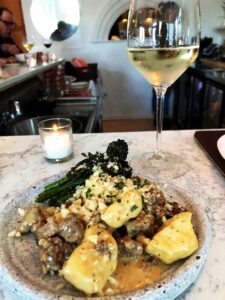 The catch is that you have to line up outside at leaast a half hour ahead of its 5 p.m. opening to get into the first seating of this tiny, cottage-sized restaurant. It does have tables outside with heaters so the now colder weather may not be a problem. If you don't make the seating you expected, give them your name and you will receive a text when a table or bar stool opens.
The other good news is that Trixie's is open on Monday when many other popular go-to spots such as Chives, an upscale place on the "quiet side" in Bailey's Harbor  and Chef's Hat, a putter shot from Trixie's in busy Ephraim, are closed.
Is it worth the early line? Definitely!
The chefs are connected to Wickman and are talented at turning what might sound ordinary into special dishes by using surprising combinations that work well together. As an example, the Panko Crusted Whitefish is prepared with elote relish, a tomato aioli and a horseradish creme fraiche.
The kitchen also has a deft hand with pasta and fish, timing both perfectly.
We had the gnocchi of the day, a delicious ricotta gnocchi plated with crispy broccoli and local sausage.
Trixie's  is also a wine bar with a terrific choice of small batch, good wines by the bottle and glass.
Given that our gnocci included a tasty sausage I should have chosen a red but I was in the mood for a pre-dinner white so went with a pinot gris from the Primarius winery in OR.
Do check out their wines.  It's fun to see restaurant's selection. You could spend an evening just choosing, tasting and sharing glasses of wine.
Trixie's  is at 9996 Pioneer Lane, Ephraim, WI ,  (920) 854-8008