Instead of a fruit cake or an apple pie bake an apple spice cake for the winter holidays. This recipe comes from Ina Garten's "make it ahead" 2014 "barefoot contessa" cookbook, Clarkson Potter Publishers, New York.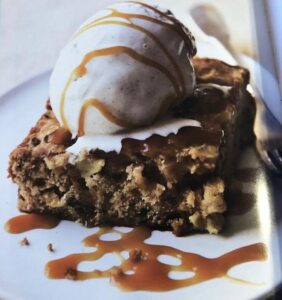 I received the book to review at a summer food event that came out shortly after the book was published. Her make ahead concept fits nicely with busy schedules, the dishes are well thought out and yummy and they lessen the stress felt when serving friends and family during the holidays.
Food photographs by Quentin Bacon, Garten photos by John M. Hall.
(*Notes are mine)
Fresh Apple Spice cake/serves 9-12.
Ingredients
3 extra-large eggs (* Take out ahead of time to bring to room temperature)
1 ½ lb Granny Smith apples, peeled, cored and ¼ inch diced
1 c chopped pecans
½ c dark rum
1 c golden raisins
1 c granulated sugar
1 c dark brown sugar
¾ c vegetable oil
2 tsp pure vanilla extract (* I like Nielsen Massey)
2 tsp of grated orange zest (two oranges)
2 ½ c all purpose flour
2 tsp baking powder
1/2 tsp kosher salt
2 tsp ground cinnamon
½ tsp ground nutmeg
½ tsp ground ginger
1/8 tsp ground cloves
Top with vanilla ice cream and caramel sauce (Ina suggests Fran's)
Instructions
Preheat oven to 350 degrees
Grease and flour a 9 x 13 x 2-inch baking pan
Place pecans in oven on a sheet pan and toast for 5 to 10 minutes until lightly toasted then set aside.
Combine rum and raisins in small bowl, cover with plastic wrap  and microwave 60 seconds. Set aside.
In bowl of an electric mixer fitted with paddle attachment beat the granulated and brown sugars, the eggs, vegetable oil, vanilla and orange zest at medium speed for 3 minutes.
Sift flour, baking powder, salt, cinnamon, nutmeg, ginger and cloves.
With the mixer on low add the flour mixture to the wet mixture.
Drain the raisins (discard liquid) and fold them with pecans and apples into the batter.
Spread on pan, smooth top and bake for 35-40 minutes until toothpick comes out dry. Cool (*best is placing pan on rack).
Cut into squares. When ready, serve warm or at room temperature topped with ice cream and drizzle of caramel sauce.