If you relate warm nights to cool desserts such as key lime pie or ice cream than don't be surprised if the cooler nights are now giving you a taste for something more filling, more fall like.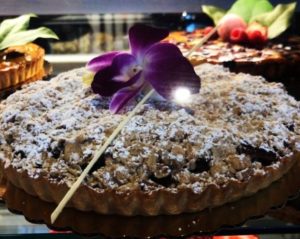 After walking into Ambrosia, a European stye patisserie in Barrington where I indulge in chocolate croissants for breakfast I chatted with owner Debbie Rivera about fall flavors.
"Definitelyh apple" said Rivera. She added that other combinations were also back. Her two fall treats now flying out of the tiered display case are Apple Normandy which somewhat resembles an apple crumble pie but fancier and a Chocolate Bourbon Pecan tart.
Both are yummy.
Ambrosia  710 W Northwest Hwy, Barrington, IL (Foundry shopping plaza)  (847) 304-8278.
Related:
Ambrosia patisserie is aptly named – Dining out – Eating in (diningout-eatingin.com)