Translated as the "king's apple," Pomeroy, a new French bistro in Winnetka, should appeal to everyone in the kingdom.  The only problem is that just two weeks after opening it already does.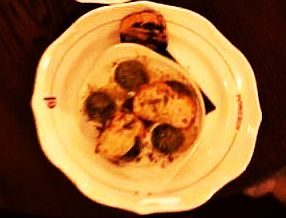 After watching the bar fill two deep while we tucked into an escargot appetizer in a nearby booth we realized that to return (which we will), reservations will likely be needed further in advance than typical for us.
The good news is that Pomeroy is open for dinner nightly.
It's not just that this is a new North Shore "hot" spot. Emulating the French bistros of Paris, the restaurant's atmosphere, food and service deserve to make it a neighborhood favorite.
Even though the pommes frites are perfect and there are several  French style dishes, non-Francophiles should find dishes that appeal.
We followed Escargots à la Bourguignonne with Steak à la Bordelaise Mâitre d'Butter, Shallot Confit that we shared because it was a 10 oz hanger steak. Seared on the outside and medium rare to rare inside it was perfectly prepared and sliced.
However, the menu, is filled with tempting sounding dishes including Salmon Provençal Tomato, Garlic, Capers, Olives, Pistou Trout Almondine Haricots Verts and Toasted Almond, Brown Butter.
There are also specials du jour such as Crispy Duck Breast on Wednesday. Plus, I want to try a salad instead of an appetizer next time like the Le Pomeroy Red Romaine, Crisp Apple, Walnut, Roquefort with Creamy Apple Dressing
Just as good as the food was the service. Maybe it's because Pomeroy  is operated by partners Ryan and Anna O'Donnell of Ballyhoo Hospitality and Glenn Keefer of Keefer's Steakhouse in River North, all pros at dishing up terrific service and food. Also partners are Sarah and Kerry Wood (Yeah of Cub K fame) and Jonathan Farrer who has helped open several restaurants and is part of Ballyhoo.
We did have an early reservation but even as the restaurant seats filled, and the bar became two two deep, attention to our table never waned. We asked for an inside booth to be sure we were socially distanced from other diners but the restaurant has since opened the outside deck.
Pomeroy is at 844 Spruce St., Winnetka, IL. Fore more information and reservations visit Pomeroy or call (847) 999-3090.