Every change in the seasons  sends me back to the cookbooks I review and use. This recipe for sweet potato pie is found at "In the Kitchen with Rosie (Oprah's Favorite recipes)" by Chef Rosie Daley , a former personal chef for Oprah Winfrey. Daley was head chef at the Cal-a-Vie spa near San Diego where she met Winfrey who was impressed by Daley's delicious but also nutritious dishes. Daley also co-authored with Andrew Weil, M.D. "The Healthy Kitchen: Recipes for a Better Body, Life, and Spirit." She lives in Encinitas, California.
About 50 of Daley's recipes made it into "In the kitchen with Rosie" (Alfred A. Knopf, New York, 1994). The recipes were constructed by Daley as light and low in fat for Winfred's weight control. Among them in the dessert chapter is Sweet Potato Pie. This recipe can  be used as a change from pumpkin pie.
Sweet Potato Pie
Serves 12 Per serving cal. 141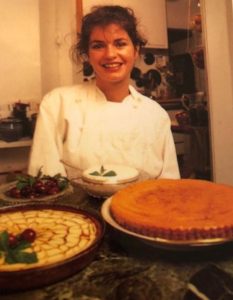 Ingredients for Crust
Light vegetable oil cooking sprayh
2 cups graham cracker crumbs
2 tsp ground cinnamon
1 large egg white
Ingredients for Filling
4 baked med sweet potatoes (See instructions)
6 large egg whites
¼ tsp each of ground nutmeg, ground cloves, ground allspice and ground ginger
2 Tbs pure vanilla extract (I like Nielsen-Massey Madagascar)
5 Tbs pure maple syrup
1 tbs honey
6 oz light cream cheese
14 c freshly squeezed orange juice.
Instructions
Bake sweet potatoes ahead of time. Preheat oven 350, scrub and dry potatoes, prick surface of each 4 times with fork, place on center rack, bake about 1 hour.
For the pie, preheat oven to 350 and spray 10 inch round pie pan 3 times with vegetable oil to coat
Put all remaining crust ingredients in food processor bowl and pulse 5 times.
Transfer mixture to prepared pan and press down firmly, spreading the crumb crust until covering bottom evenly
Peel baked sweet potatoes and put into large mixing bowl then mash with a fork
Transfer potatoes to blender and add all remaining filling ingredients
Whip until mixture is smooth and frothy, scraping down sides so all ingredients are blended
Pour filling into crust
Bake for 30-45 min until center of pie is firm and not sticky to the touch
Transfer pan to rack to allow pie t to cool for 30 min. then refrigerate for 1 hour
To serve, top with doll0p of mock whipped cream and sprinkling of nutmeg.