"I think Fall is my favorite season," said award winning chef, restauranteur, cookbook author and TV cooking show personality Gale Gand.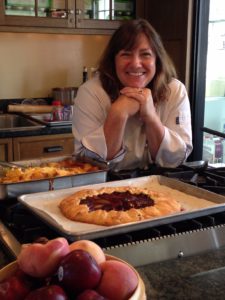 She still collaborates with The Hearty Boys, (Dan Smith and Steve McDonagh) Season 1 winners of the Food Network's reality competition which included Gand's signature cinnamon-ginger-vanilla root beer. Ah cinnamon.
So thinking about cinnamon, Dining Out-Eating In interviewed Gand about fall dishes, spices, flavors and recipes.
Q. "When you think of fall, what flavors, spices and dishes come to mind?
Gand: Pumpkin, cinnamon, apples, pears, sweet potatoes, butternut squash. The rare squashes that chefs like such as delicata is now appearing in markets and stores," (Delicata is a winter squash with a striped  oblong shape that  tastes similar to butternut squash.)
Q. Have you started switching from summer dishes to fall ones?
Gand: Yes, I just did a pumpkin sauce for the Hearty Boys. And I like using celery root in dishes. It's only beginning to return to the markets. I like to use it in a slaw. My daughter Ruby who  just returned from France said it was used in meat balls.
Q. Do you have a favorite fall dish?
Gand: I love spice cake. One of my daughters loves pumpkin pie with tangerines. Tangerines are just coming out. You can do pie without crust and it's like a pumpkin pot. I also  like Hassleback Butternut Squash (see recipe below). You can do it with potatoes or squash. And fall is the time for apple and pear dishes. They usually end up as apple pies but I have a scalloped apples dish you can do in the mircrowave. It's a great side dish. It's easy (see recipe).
Q. Are you doing any classes this fall?
Gand: Yes at Elawa Farm (Lake Forest, IL) Oct. 18, 2021 from 12:30 to 2:30. Also when COVID hit I started online cooking classes. It's Kitchen Sisters Kitchen School.
RECIPES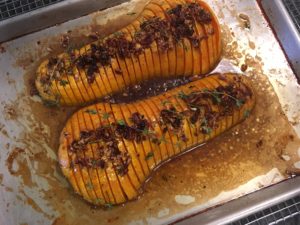 Hassleback Butternut Squash with Pecans and Maple
Serves 6 – 8
Ingredients
1 large butternut squash
2 Tablespoons vegetable oil
Salt and pepper
2 Tablespoons unsalted butter
¼ cup maple syrup
¼ teaspoon cinnamon
½ cup water
¼ cup chopped pecans
½ teaspoon fresh or dried thyme
Directions
Preheat oven to 425 degrees Fahrenheit.
Cut the squash in half long ways and spoon out the seeds and discard. Peel with a peeler. Oil a baking pan then place the 2 halves cut side down. Oil them a bit and sprinkle with salt and pepper. Roast at 425 for 20 minutes. Remove from the oven and let sit 5 minutes.
Place chop sticks on both sides of the squash, then using a large knife, cut slices ¼ inch thick making sure not to cut all the way through. The chop sticks will keep that from happening. Melt the butter and combine with the maple syrup and cinnamon, then pour it over the sliced squash halves. Pour ¼ cup water in the bottom of the baking pan and return to the oven for 15 minutes. Sprinkle with the thyme. Place the nuts in the syrup on the pan and stir to coat, then spoon them onto the top of the squash. Add another ¼ cup water and bake another 15 minutes. Remove from the oven and spoon any syrup in the pan over the squash and serve.
Escalloped Apples
Serves 4
Ingredients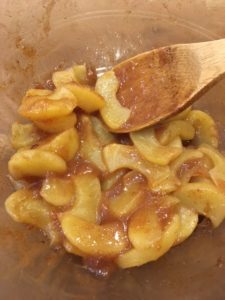 4 apples, any variety
2 Tablespoons brown sugar
2 teaspoons cornstarch
½ teaspoon cinnamon
Pinch of nutmeg
Pinch of salt
1 Tablespoon unsalted butter
Directions
Peel and slice the apples, and then place them in a large, microwave-safe bowl. Combine the brown sugar, cornstarch, cinnamon, and salt in a small bowl. Sprinkle the mixture over the apples, and toss to thoroughly coat. Dot with the butter, and then cover the bowl with a paper towel and microwave on high for 8-12 minutes or until the apples are tender, stirring every 4-5 minutes. Check for doneness a little early and extend the cooking time if needed. The apples should be very tender but not mushy, like apple pie filling. Serve warm or cold.