Highwood, IL was once known for having more bars in its slightly less than a square  mile city limits than any other town in USA. That changed as the reputation of its Italian restaurants grew throughout the Chicago area helped by visiting opera stars such as Luciano Pavarotti.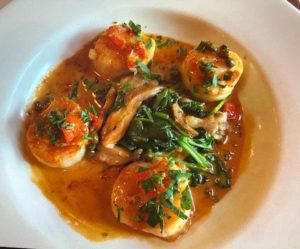 Now the town's reputation is that it has more restaurants in its slightly over square mile area than any other town .And they range from the continuing favorite Italian  places to an excellent mix of Caribbean, Latinx, Asian and French establishments.
Among them is Miramar an upscale bistro with Parisian vibes and Cuban accents indoors and its sidewalk tables outside that despite the pandemic still draws the crowds it did when Gabriel Viti opened it in 2004.
The way I judge a restaurant is by its scallops. The dish may sound simple but I've had them over and under cooked. Miramar's scallops are roasted to perfection and set in a Pernod broth similar to what the restaurant uses in its bouillabaisse. Together with the oyster mushrooms in dish, they are a light yet substantial enough entrée. However, use the fresh bread served at the table to soak up the sauce.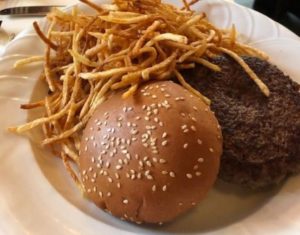 BTW Youngsters would likely enjoy their burgers which come with  pommes frites prepared as shoestring potatoes.
Miramar anchors the northeast corner of Waukegan and Highwood Avenues on the east side of the train tracks at 301 Waukegan Ave.
For reservations and other information visit Miramar Bistro.