I admit I travel on my stomach. When we did the color trip to Vermont and New Hampshire a few years ago we sought out inns and B 'n' Bs with dining room reputations. So when my husband said lets get away for a few days, I thought about how my fave restaurant outside the Chicago area sat amidst boutique shops and scenic vistas. Well, hello Galena, IL Glad to be back at Fried Green Tomatoes.
In case Galena isn't on your bucket list (Isn't there a better term than bucket? ), just know that across the Mississippi River is Dubuque, and in Dubuque County is Dyersville where the Field of Dreams movie was made and where people can visit the site free of charge and, listen up Sox and Yankee fans, where those teams will play Aug. 12, 2021 if everything goes OK.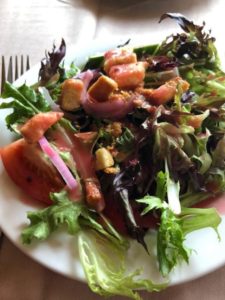 Some folks journey to Galena just for Fried Green Tomatoes
We made our dinner reservation there before we left home. Yes, the place is that popular.
Bring your appetite because before their entree, every diner is served delish Parmagano topped bread with dipping oil and a terrific salad with a home made raspberry dressing. They were out of take-home bottles or I would have bought one.
After perusing the menu, we knew we were going with seafood so found a couple of whites by the glass to accompany dinner. The wine list is reasonably priced, so enjoy.
I love scallops and order it when I think the chef is knowledgeable so not over or under cooked. My dish came with sweet pea pancetta risotto. Yum.
My husband had lobster ravioli that was squid ink stripped pasta. I'm not a lobster fan but he is and liked it a lot.
The menu has a wide range of options but I never heard of any dish that patrons didn't like. BTW I would have ordered  a side of fried green tomatoes but since the last time visiting the restaurant about 10 years ago, I learned I'm not supposed to do tomatoes.
A bit about the restaurant's location. As with 85 percent of the structures in Galena's Historic District, the structure housing Fried Green Tomatoes goes back to the 1850s when General US Grant's father, Jesse R. Grant, had a leather shop there. Later, Galena mayor Frank Owen ran a saloon upstairs.  Known as the Dowling Building, it also was home to a monument shop during much of the last century. Other occupants included an antique store.
When I first visited and fell in love with Fried Green Tomatoes it was in an historic building off the road to Chestnut Mountain (There still is a sign there saying former Fried Green Tomatoes). So when looking for a place to relocate downtown, owner Fred Bonnet still wanted something with character.  On the restaurant's website Bonnet said, "I left the brickwork exposed. I left the patterns on the wall and reproduced them elsewhere in the restaurant. The history of the building Mr. Dowling built is part of the experience for our guests,"
For reservations, hours, menu and more information visit Fried Green Tomatoes.
The restaurant is at 213 N. Main St., Galena IL 815-777-3938.