Finally found an Asian restaurant to go back to for dine out or eat in.
There really are several okay Chinese restaurants in Chicago's suburbs, but when my favorite family-run place in downtown Highwood (Highwood Avenue next to Green Bay Road – does anyone else remember it?) closed a number of years ago, I didn't find one that came close to taking its place. That is until now when a friend (another food writer) and I decided to try Jin 28 in Highwood, IL for lunch.
Although it is part of a four-restaurant suburban Chicago  group, the food served to us and the service at the Jin 28 Highwood location made  our lunch experience special.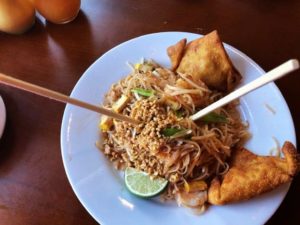 We quickly discovered the restaurant served more than Chinese cuisine   The lunch menu was a triple threat of Chinese, Thai and Japanese dishes accompanied by soup and more. The dinner menu, which I will order from when I go back, completed the run with such Chef Specials as Korean BBQ ribs ($12.95).
I had Pad Thai noodles with tofu, egg, bean sprouts, green onion, peanuts, carrot and lime in a slightly sweet and sour tamarind sauce and a  choice of chicken, shrimp or meat. I did shrimp which were good size and properly prepared. the order came with two crab rangoon pieces, and a soup choice, I did egg drop which was excellent. The lunch was $6.95. I  also had iced tea so with the beverage and tax lunch was $10.80, The food was more than worth the price. It also was enough for second meal.
My friend ordered from Japanese lunch menu. She chose a 3- piece sushi  dish that included salmon and tuna. Plus, it came with a multi-piece California roll and a choice of misu soup or house salad. She did the soup which was very good. With the addition of iced tea. Her tab was also $10.80.
The menu is quite large so I plan to leave time to pour over all the choices when I return.
Jin 28 is at 752 Sheridan Rd., Highwood, IL. For more information call (817 – 926-5678 or visit Jin 28 Highwood.com
Other Locations are Carol Stream, Arlington Heights and Naperville.
Carol stream Jin 28 | Order Online | Carol Stream, IL 60188 | Chinese (jin28carolstream.com)
Arlington heights Jin 28 | Order Online | Arlington Heights, IL 60004 | Chinese (jin28il.com)
Lunch menu
Jin 28 | Order Online | Highwood | BeyondMenu
Served mon-sat 11-3
Chinese
Thai
Japanese
Been looking all over suburbs for a good sit-down but also take-out resataurant Chinese. This place exceeds that wish
Asian
It does Chinese, thai and Japanese. And is good in all three cuisines.
Jin 28 has four locations.
I went to the none in Highwood.
Place was clean, waitstaff friendly but just aas important. The food was delish.