Yes it grilling season but that doesn't mean you are limited to meats and vegetables on the grill.
The Culinary Institute of America Cookbook  is packed with recipes for all moods and occasions including easy to make, yummy desserts such as Grilled Angel Food Cake topped with strawberries and Chantilly cream.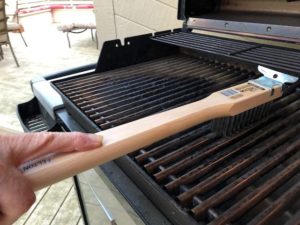 Of course, the Institute does everything from scratch so for its grilled angel food cake it has instructions for the cake recipe and  Chantilly cream. Follow both or just part of it.
The recipe comes from the Culinary Institute of America Cookbook published in 2008 by  Lebhar-Friedman Books (NY, Chicago, Los Angeles, London, Paris, Tokyo)
Angel Food Cake
The advantage of grilling angel food cake is that even though it is light it has enough depth to go on the grill and the sugar will have a deep caramelized flavor that pairs well with the strawberries you should add. The cake and fruit go well with the Chantilly cream to which you can add a liqueur.
Makes 12 servings. Preheat oven to 350 degrees F
 Ingredients
¾ cake flour
1 cup granulated sugar
Pinch salt
6 egg whites
1 cup vanilla extract (I prefer Nielsen Massey)
Pinch cream of tartar
2 cups Chantilly cream (see recipe)
4 cups hulled and halved strawberries
Instructions
Cake
Preheat oven to 350 degrees F
Sift together flour, ½ c of sugar and salt. Set aside
In a large bowl combine egg whites, vanilla and cream of tartar. Whisk or beat on medium speed with whip attachment until frothy.
Gradually add remaining sugar and beat  to medium stiff peaks
Gently fold sifted dry ingredients in beaten egg whites until evenly blended.
Immediately pour batter into ungreased tube cake pan
Bake until cake springs back when lightly touched. (about 35-40 minutes)
Cool cake upside down on a rack before removing from pan.
Preheat gas grill to medium high
(If using a charcoal grill, build fire and burn it down until coals are glowing red with light coating of white ash and spread coals evenly, Clean cooking grate.
Cut cake into wedges.
Grill  wedges until well marked on both sides and warmed through (2-4 minutes each side)
Serve cake with strawberries and Chantilly cream
Chantilly cream
Whip well -chilled heavy cream until thickened.
Add a bit of superfine or powdered sugar
Continue whipping cream until think enough to spoon or pipe onto dessert.  The best cream is one that hasn't been ultra pasteurized.
Add liquor if wanted
Enjoy!