Three Sisters Garden farmer and chef Tracey Vowell, a popular vendor at Chicago area's Green City Market locations, has teamed with James Beard award winning chef and Prairie Grass Cafe owner Sarah Stegner to offer a couple of yummy ideas for black beans.
Three Sisters Garden farmer and chef Tracey Vowell with Sarah Stegner offers this suggestion on how to make Black Bean Soup and a second meal using the black beans left overs.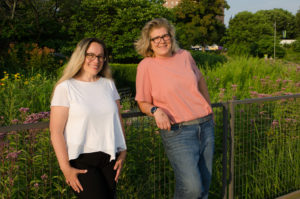 Tracey Vowell's Velvety Black Beans Soup
Ingredients:
1 lb of Three Sister's Garden Black Beans
4 cups of water
Spices to taste: Bay leaf, thyme, a chili pepper or pepper flakes,  green garlic
Instructions:
Rinse the beans and cook. (Do not pre-soak)
1 lb of beans add about 4 cups and be prepared to add more water as needed.
When the beans are tender strain out the liquid into a pot.  Return the liquid to the stove and watch it because as it reduces it can start to stick. Most of the nutrients are in the liquid and "it will become like velvet".
The starch is in the beans and it is white.  You can add some whole beans back into the soup but do not blend or crush them.  If too much starch is released it will fade the color of the soup and take away the velvety texture. Season the soup the way you would like and with what you have in your pantry to add to it. Bay leaf, thyme, a chili pepper or pepper flakes, green garlic.
Stegner says, "Tracey and I like to sprinkle fresh crumbled goat cheese or feta over the top".
Visit Green City Market Farmer for other Three Sisters Garden items.
Sarah Stegner's Easy Black Bean Meal using Leftovers
Start by sautéing diced onions in bacon fat or olive oil. Add seasonings like chili flakes, tumeric, chopped fennel seeds or green garlic. Add chopped vegetables like peppers, carrots, or tomatoes to add flavor.  Continue to sauté until tender and caramelized (brown). Then add in the beans that are left over from your soup. You'll have a delicious, hearty meal.
For menu visit Prairie Grass Café. For more vendors visit Green city Market/browse.