The Chicago area's popular Green City Market is made up of local/regional farmers, artisans and chefs. However, with people staying at home now during the Covid 19 crisis, broadcasting celebrity Bill Curtis and James Beard award winning chef Sarah Stegner, two of the market's founding board members, have announced that because of the Covid 19 crisis, the public can go to a link and purchase items directly from the participants.
"In this unprecedented time, the market and its farmers remain committed to offering nutritious, local, sustainably grown food, and that's why the market and many of the farmers and artisans are willing to come to you," said Kurtis. He advised the following: "Just go to the Green City Market website at Green City Market, and click on the virtual vendor link on the home page. Once there, you can connect directly with over two dozen local family farmers and artisanal food producers who are able to offer pick up or delivery services."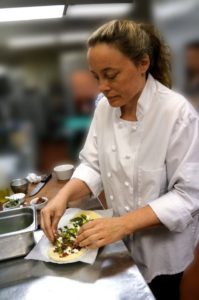 He suggested that people click on the profiles to learn about the vendors and also see details on placing orders and picking them up or about delivery for large orders.
Stenger, owner and co-chef of Prairie Grass Cafe, Northbrook,  added, "It's very important that we keep access to local, sustainable food, and by purchasing from the farmers, it ensures that we will have access in future years."
"Ask them what they have and what to do with it if you're not sure. All of them are really qualified to answer these questions for you," she said.
Stenger, who is used to answering food and preparation questions,  has a hotline called "From Our Kitchen to Yours." People can call from 2 to 4 p.m., daily at 847-920-8437.
(Ed. Note: Because farmers need help, other markets may be starting similar initiatives elsewhere, so check your area.)