Instead of watching bread toast and water boil while waiting for the C virus pandemic to pass and dining out will again be a reality, switch to "Grab and Go," curbside service or try one of the delivery groups such as Doordash, Grubhub, Caviar, UberEats, et al. Using these services will help keep your favorite restaurant in business and many have discounts and incentives. Also, go the James Beard Foundation to find out about the fund it has set up to help restaurants in need.
The following places said they are available for dining out options but call or go to their website to be sure. In addition, check with the restaurant you usually go to find out its options.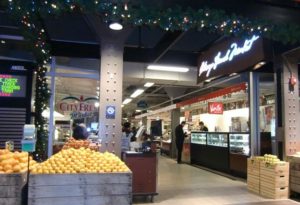 If still taking the Metra down to the Ogilvie Transportation Center or if living or working in the West Loop, stop at the Chicago French Market at street level between Canal and Clinton and Washington and Randolph Streets because these places are likely to be open for pick-up and delivery:  BeBe's Eatery 10 a.m. 5 p.m. weekdays and 10 a.m.-1 p.m. weekends; Loop Juice 7 a.m.-3 p.m.; Saigon Sisters 10 a.m.-4 p.m.; Vegan Now 11 a.m.-4 p.m.; Aloha Poke10 a.m.-6 p.m.; City Fresh Market 7 a.m.-6 p.m. and RAW 7 a,m,-3 p.m.
Check out aba in the West Loop/Fulton Market area, Bub City in River North, Antico Posto and Beatrix in Oakbrook and Beatrix in Streeterville plus Big Bowl in River North, Edina and Lincolnshire.
More  restaurants with pick up or delivery
These restaurants also came into the Inbox recently: Acadia (1639 S. Wabash Ave.) Honey Butter Fried Chicken (3361 N. Elston Ave. Avondale), Lawry's The Prime Rib  and SideDoor (100 E. Ontario St.) orders available between 4:30-8 p.m. Portillo's throughout the Chicago area and Illinois plus Arizona, California, Indiana, Iowa, Minnesota, and Wisconsin have delivery and some drive-thru. Florida locations are still open for dining in and taking out. River Roast (315 N. LaSalle) has delivery and curbside pickup available daily 11 a.m. – 8 p.m. Seoul Taco (River North: 738 N. Clark St.; Hyde Park: 1321 E. 57th St.; Naperville: 206 S. Washington St.) WoodWind (259 E. Erie St.) has an express counter on the second floor of the Lavin family Pavilion open 11 a.m. to 2 p.m.
Even more choices
Bar Biscay has a two person dinner and also groceries with Bodega Biscay, noon to 8 for next-day delivery and pick-up orders. Coda Di Volpe has curbside pickup from 4:30-8:30 p.m. Filini Chicago has a carry-out menu does delivery through GrubHub 7 a.m-9 p.m. Gemini has curbside pickup from 4:30 PM – 8:30 PM daily, call (773) 525-2522. Old Pueblo Cantina has curbside pickup or Cavier delivery 4:30-8:30 p.m. Stan's Donuts & Coffee has online ordering through an app and on its website uses UberEats, GrubHub, and DoorDash, for its Chicago and suburban locations (plus has gift cards with incentives. Temporis has a Prix-fixe dinner for two for pickup or delivery available 4-9 p.m. Tuesday through Saturday. The Smith has daily pick up and delivery from 11:30 a.m. to 9 p.m. daily through DoorDash, UberEats and Grubhub. Or by calling the restaurant. It also has f family meal multi course for $35. And has gift card promotions. Urbanbelly has delivery and takeout available daily from 11 a.m. to 9 p.m. using Caviar and Ritual or call 773-904-8606 for take-out. Walton Street Kitchen + Bar has daily curbside pickup or delivery available from 4:30-8:30 p.m.
Levy Restaurants
Cafe Spiaggia has curbside pickup available daily 11 a.m.-8 p. m. (For Pickup: Pull your vehicle to the Northwest Corner of Oak & Michigan under the 1000 Lake Shore Plaza Awning.  Please call the restaurant at 312.280.2750 and let them know you have arrived. A team member will meet you at your car with your order.) Jake Melnick's Corner Tap has curbside pickup available daily noon to 9 p.m  and delivery available via DoorDash and ChowNow.