I admit I have favorite places in towns in the US and abroad visited as a travel writer. But just back from a conference in Washington, D.C., I realized I haven't said anything about Bread and Chocolate, my fave breakfast and lunch spot there even though it was the first place we headed after unpacking.
Having endured an early morning flight from Chicago the brunch option of entree, pastries basket, coffee and more sounded perfect but we were trying not to indulge in pastries on this trip so merely went for basic breakfast items.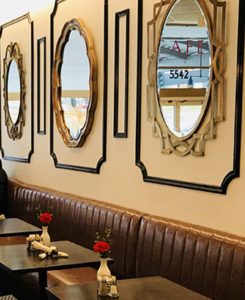 Well, at  Bread and Chocolate, a tiny jewel of a European bakery and café located in D.C.'s West End, basic is really a few levels up in the gourmet menu category.
I went for the French Omelette of Black Forest ham and gruyere  while my husband chose the B+C Eggs Benedict where the eggs sat on country bacon and potato latkes.
Both were yummy.
I did eye a rustic apple tart and chocolate truffle on the way out but decided to be good this time.
Started in 1978 by Theodore Manousakis and Chef Ernst Moser, Bread and Chocolate also supplies commercial establishments but to me, its three cafés, the one I go to in D.C.,and its sister cafés, in Alexandria, VA and Chevy Chase, MD, are the way to sit and savor dishes with a European accent. All three places are open from 7 a.,. to 5 p.m., daily.
Bread and Chocolate West End is at 2301 M Street, NW Washington, DC 20037, (202) 833.8360.