Walk into 58 E. Oak Street, to be impressed with wine storage walls, bottle towers and wine paraphernalia. Then continue up a couple of levels to the restaurant to enjoy a miso-glazed, sweet but firm, Chilean sea bass or a 25-oz, bone-in perfectly prepared, charred on the outside, juicy inside, rib eye or a flavorful, pistachio-crusted Australian rack of lamb, all paired with excellent wines.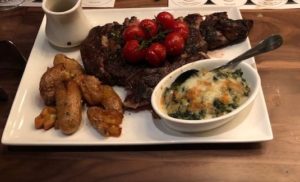 The place is Cooper's Hawk Esquire Chicago. Instead of merely rimming the city in its suburban locations, the wine and restaurant chain has added a prime Gold Coast site for its flagship store by moving into the Esquire Building's, tri-level, 24,000 square-foot space.
There it shows off fine wines (not only with Cooper's Hawk labels) and excellent, primarily traditional, American cuisine. There is also space to host wine workshops.
After recently experiencing Chef  Matt McMillin's superb dishes, paired with Master Sommelier Emily Wines' (really) selections at the Oak Street location, I'm ready to go back there the next time I have a special occasion even though it is part of a restaurant-winery chain. Whichever entree I decide to order I'm going to add the kitchen's fabulous roasted Crispy Brussels Sprouts with cashews and sweet Thai Chili.
Cooper's Hawk currently has nearly 40 suburban places in 10 states and operates a wine club of just under half a million members.
Cooper's Hawk Esquire Chicago is at 58 E. Oak Street, Chicago. For reservations and other information visit Cooper's Hawk Esquire Chicago.