Cooper's Hawk Winery & Restaurant, a lifestyle brand centered around food and wine, recently opened its 12th Chicago-area location in Downers Grove.
Founded in 2005, Cooper's Hawk is an award-winning winery with a portfolio of Napa-style tasting rooms, restaurants with scratch kitchens and contemporary American menus and artisan retail markets. Since opening, the company has grown to more than 40 locations around the country with more on the way.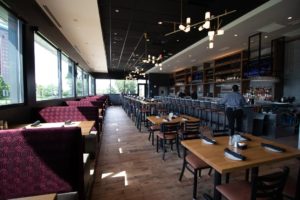 Much anticipated by west-suburbanites, the new Downers Grove location includes indoor and outdoor dining spaces and a full-service bar. It was built from the ground up at 1801 Butterfield Rd. on the site formerly occupied by Carlucci's.
 "The reception has been fantastic," said general manager Justin Clarke. "We are somewhat unique in that we have name recognition in this area, which we don't have in some of our newer markets. Being in a business park, we are seeing really great weekday lunches. I think as we get more established and word of mouth keep going, we'll see more and more after-work crowds coming through."
 Although the Cooper's Hawk signature concept is replicated throughout the country, the Downers Grove location has a couple of special features. One is that n addition to the main-level bar, there is a full-service rooftop bar that is enclosed for year-round conviviality. Glass doors open to an expansive patio.
 The other is a wine-and-food pairing called the Reserve Tasting Experience, that is offered for the first time in the Chicagoland area. Up to eight guests at a time can enjoy a rotating, monthly wine flight along with light bites like nuts and cheese. They are served by attendants who share insights into the wines and how they pair with certain flavors. The cost is $24 per person, and reservations are taken.
 "We all know food and wine go together, but we may not know why," Clarke said. "This experience illustrates the interactions between food and wine, and what they can do for each other."
 The Downers Grove culinary team is led by Ryan Dallesasse who works closely with executive chef Matt McMillin. The contemporary American menu is infused with international flavors, and each dish on the menu is listed with a bin number to guide guests to the perfect wine pairing. The menu also includes a gluten-free selection as well as a kids' menu, catering and carryout.
 Cooper's Hawk invited us for dinner on a weekday evening, and we delighted in several of the menu selections. The restaurant was bustling with guests, but the staff remained welcoming and attentive.
For starters, the Asian ahi tuna sashimi with ponzu-ginger vinaigrette, avocado, radish, wasabi cream and sriracha was a lovely harmony of flavors. Next, our server urged us to try the shaved brussels sprouts salad with shaved parmesan, lemon, marcona almonds and balsamic glaze. She was right–the salad was crisp, green and well-balanced.
 Our main courses were the pistachio-crusted grouper and the trio of filet medallions topped with horseradish, bleu cheese and parmesan. Both were creatively plated with asparagus and mashed potatoes, and perfectly cooked to the last bite.
 We could barely manage dessert after that feast, but we did indulge in a sundae concocted with a slice of banana bread, caramelized banana, vanilla ice cream, rum caramel and candied walnuts. It was sweet but not cloying.
 Of course, we had to indulge in Cooper's Hawk's main event: Wine.
 My partner, whose tastes run toward sangria and fruity martinis, found both in the sangria-tini, which mixes red sangria with gin, cointreau and prosecco. I began the evening with my favorite, unoaked chardonnay, and switched to the October's wine-of-the-month: An American red that is a collaboration with LVE Wines by John Legend. Yes, that John Legend, award-winning singer, songwriter, humanitarian.
 "On our cocktail menu and in our kitchen, we try to incorporate our wines," Clarke said. "We have a play on a whiskey sour where we use a port-style wine, and we have a couple of sangrias mixed in with a cocktail."
 Cooper's Hawk, the 34th-largest winery in the United States and winner of more than 500 industry awards, produces about 50 different wines and 700,000 cases each year with grapes imported from around the world. The wine is distributed exclusively through Cooper's Hawk, including a monthly membership subscription club. If you're uncertain about which Cooper's Hawk wine to order, ask for a complimentary taste of your choosing. The staff will be happy to oblige.
 For reservations, visit Open Table or call 331-215-9463. Cooper's Hawk Winery and Restaurant is at 1801 Butterfield Rd., Downers Grove
By Pamela Dittmer McKuen