Listen up foodies. a day of taste treats awaits at Disney's Epcot Theme Park. If in Orlando or Kissimmee, now through Nov. 23, 2019, go and indulge.
It's the annual Epcot International Food and Wine Festival. It's gourmet, yummy and can be a learning experience.
After your Epcot ticket gets you into the park pick up the Food & Wine Festival Passport and map.
First, wander around the Future World West area left of the The Land and stop at a handful of booths.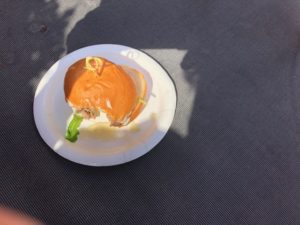 I started Flavors from Fire (hosted by ESPN's College Game Day). The Passport booklet and the menu there described the choices. I wanted to try them all but knew more booths were just steps away so went for the "Steakhouse Blended Burger, a beef and mushroom slider with Brie cheese, arugula and truffle and a blue cheese potato chip on a brioche bun. Yum. If I had any room left after sampling other booths' fare I would be  back for the Chocolate Picante of dark chocolate mousse with cayenne pepper, paprika and mango-lime compote.
Nearby stops included Earth Eats which featured the Impossible Burger accompanied by Wasabi cream and spicy Asian slaw and the Cheese Studio which had the Black Pepper Boursin Souffle with a fig marmalade.. Heaven
Also nearby were Active Eats' mac and cheese, Coastal Eats' Pacifico True Striped Bass Tostada, The Chocolate Studio's Liquid Nitro Chocolate-Almond Truffle with warm whisky caramel and The Wine and Dine Studio's Seared Scallops. All these booths offered beverages which  went well with their food offerings.
Maybe because I was trying the food booths early in the lunch hours the lines were short.  It was decide, order, pay, walk to the pick-up area, show ticket and get food. No wait. No problem.
If you want a special experience book a seminar event. Be sure to check days and times available.
These events range from $19 for the Beverage Seminar to $95 for the Cheese Seminar with food and beverage pairings ranging from a $29 Food and Beverage Pairing  to $45 Mix and Make it class.. (not including tax).
The various countries are also offering special dining experiences. Most are $60 per guest but the Parisian Afternoon starts at $35.
Epcot's countries have marketplaces and restaurants at different price points for table and quick service
For more information or reservations visit Epcot International Food & Wine Festival
or call (407) 939-5277 between 7 a.m. and 11 p.m. Eastern Time.