That Chicago really is a foodie town that can support high quality restaurants at different price points was evident when Michelin recently came out with its 2020 Bib Gourmand listing of 54 restaurants that have "high-quality food available at a reasonable price."  Fourteen of them were new.
That list was followed this past week on Sept. 26, 2019 with its Michelin Guide Chicago 2020 Selections  Three Stars designate exceptional cuisine, Two Stars for excellent cuisine and One Star for high quality cooking.
No surprise that Grant Achatz's world-renown Alinea  in Lincoln Park, has retained its Three Stars.
What is interesting is that the Two Star category remained the same and that two of those three restaurants so recognized, Noah Sandoval's Oriole and John Shield's Smyth, are in the West Loop, and Ryan McCaskey's Acadia is in the Near South Side neighborhood.
Also interesting is that the five new restaurants listed among the 25 establishments in the One Star category are in what is considered to be  West Loop (think also Fulton Market).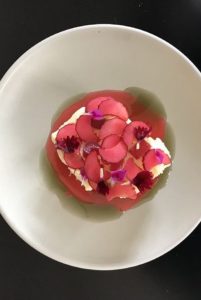 A statement offered with the Star selections reads: ""Our inspectors are especially impressed by the high-end Japanese cuisine available in the West Loop," says Gwendal Poullennec, international director of the MICHELIN Guides. "We have five new one-star restaurants in the 2020 MICHELIN Guide Chicago, each of which demonstrates a fine attention to detail and serves high-quality, top-notch cuisine."
.The 2020 Michelin Guide Chicago also includes more than 100 restaurants with the Plate symbol, the recommended designation "for a good meal with fresh ingredients and capable preparation."
Look for the 2020 Michelin Chicago Guide in stores beginning Sept. 30, 2019.  (Washington DC is announced Oct. 1 and NYC is announced Oct. 21).
2020 Michelin star Chicago recipients:
Three Stars (exceptional cuisine, worth a special journey):
Alinea
Two Stars ("excellent cuisine, worth a detour):
Acadia (Chinatown & South)
Oriole (West Loop)
Smyth (West Loop)
One Star (high quality cooking, worth a stop):
Band of Bohemia (Andersonville, Edgewater & Uptown)
Blackbird (West Loop)
Boka (Lincoln Park & Old Town)
EL Ideas (Pilsen, University Village & Bridgeport)
Elizabeth (Andersonville, Edgewater & Uptown)
Elske (West Loop)
Entente (Lakeview & Wrigleyville)
Everest (Loop)
Goosefoot (Andersonville, Edgewater & Uptown)
Kikkō (West Loop)
Mako (West Loop)
Next (West Loop)
North Pond (Lincoln Park & Old Town)
Omakase Yume (West Loop)
Parachute (Humboldt Park & Logan Square)
Schwa (Bucktown & Wicker Park)
Sepia (West Loop)
Spiaggia (Gold Coast)
Temporis (Bucktown & Wicker Park)
Topolobampo (River North)
Yūgen (West Loop)