Forget the Manischewitz sweet wines formerly sipped at Jewish ceremonies and such holiday meals as the Passover Seder. Israeli wines are now making their mark on the international viticulture scene.
Although wines have been made in the region since biblical times, the industry went fallow until the Jewish Rothschild family of finance and wine-making fame stepped in.
According to a Jerusalem Post article, Baron Edmond (Benjamin) de Rothschild  (1845-1934) who inherited Chateau Lafite (with his brothers) sent agronomists and his own viticulturists with cuttings from Chateau Lafite's vineyards to the region in the 1880's, then built the Rishon Le Zion and Zichron Yaacov wineries n the early 1890s and sent Bordeaux winemakers and his own winemaker shortly afterwards.
So, why don't we hear more about Israeli wines?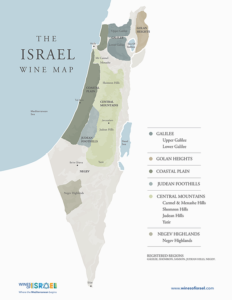 Really disliking sweet wine and having access to Israeli wines from a high-end grocery store on Chicago's North Shore,  I have served them at Seders, the time when we tell the story and celebrate the ancient Israelites escape from Egyptian bondage. I've also sipped excellent wine in Israel when visiting the country, but took the high quality for granted. After all, Israeli has a thriving agriculture industry.
But, I didn't think about what was exported, if the wines were in demand, how they compared to wines from other Mediterranean regions or from California and knew little aboutthe  grape choices.
During a recent masterclass on Israeli wines at City Winery Chicago that was hosted by Advanced Sommelier Rachel Speckan Driver, City Wintery's former national wine director, the wines tasted and the discussion of Israel's Mediterranean climate and diverse terroir made it clear that wines currently produced in the region have been combining old world know-how with modern technology and expertise while taking advantage of this tiny country's regional soil compositions.
At 8,019 square miles (20,770 square kilometers, Israel (pre-1967 borders) is a tad larger than New Jersey's 7800 square miles (20,000 square kilometers). The seminar's map, (pictured here,) shows general winery regions of the Upper and Lower Galille, Golan Heights, Coastal Plain along the Mediterranean Sea, the Judean Foothills, the Central Mountains of Carmel and Menashe Hills, Shomon Hills, Judean Hills and Yatir and the Negev Highlands.
Soils range from volcanic in the north and sandy, red along the coast to chalk and limestone in the hills.
The varieties grown cover a familiar spectrum of Chardonnay, Sauvignon Blanc, Gewurztaminer, Muscat and Colombard for whites and Cabernet Sauvignon, Merlot, Shiraz/Syrah, Carignan, Petit Verdot, Cabernet Franc, Argaman and Petite Sirah for reds. But also grown are the locally known Debouki, Hamdani/Marawi and Jandali  whites and Argaman, Baldi Asmar reds.
Current figures show that of the 40 million bottles produced each year, only 20 percent of the production is exported and total only $50 million with about 55 percent going to North America and 35 percent to Western Europe.
Speculation in the Israeli wine industry is that the sweet wines that had had been a ceremonial mainstay for years, have colored people's perception of wines produced in the country. Also the wine industry there attributes the low export to little publicity and market exposure.
In a BMG (Beverage Media Group) article, the owner of Upper Galilee's Dalton Winery, Alex Haruni, said, "Most Americans have no idea that Israel produces wine, which is understandable as our wines have not had much exposure in the broader non-ethnic market."
At the wine seminar we had a chance to taste the indigenous Marai produced by Recanati, a multi-gold award winning winery for its Cabernet Sauvignon and Syrah Reserve, and  the Marsanne/French Colombard by the young (2012) Maia Winery.
Plus there was a Chardonnay (95%) Sauvignon Blanc (5 %) blend by Five Stones Vineyards and a Reserve Syrah by Tulip Winery. In addition, there was a  a Carignan by Jezreel Valley Winery, and a Legacy Petite Sirah by Teperberg Winery. Also, there was a Cabernet Sauvignon by Barkan Winery and the Unfiltered Cabernet Sauvignon by Segal Winery.
Ranging from $40 to $60, these were not inexpensive wines and they came from wineries that have won medals and been recognized by wine experts.
Although I'm mostly a full-bodies Cabernet Sauvignon lover, my favorite wine at the tasting was the 2016 Nobility 215, a classic, complex chardonnay aged eight months in French oak offered by Five Stones Vineyards.
My friend, a journalist who also goes to several wine tastings, liked the Legacy Petite Sirah from Teperberg because it was very robust.
I think a fun thing for wine drinkers to do is to hold an Israeli or Mediterranean wine party and let guests decide what they like.
The exporters used for this tasting were Royal Wine Corp., Palm Bay International and Happy Heart Wine.
For more information about Israeli visit Wines of Israel.