The only problem I had dining out at Prairie Grass  Cafe in Northbrook, IL was deciding whether to try the Brioche Crusted Wild Halibut with warm pesto green bean an onion salad and garlic chive mashed potatoes or the Grilled Wild Alaskan King Salmon, both on the specials of the day menu, or go for the Crispy Half Duck with blackberry-mixed green salad and creamed corn on the regular menu.
I like halibut and salmon and tend to order dishes on the menus of the day in restaurants but I have a weakness for crispy duck.
Normally I look for lighter dishes in summer and this was a warm mid-July day when I went to Prairie Grass with my husband and another couple who suggested the restaurant.
I hadn't been here since early in its life when Chicago Ritz Hotel Dining Room star, Chef Sarah Stegner, and her partner, Ritz Hotel Executive Chef, George Bumbaris, left the high-end Mag Mile hotel to open this casual North Shore restaurant about 15 years ago.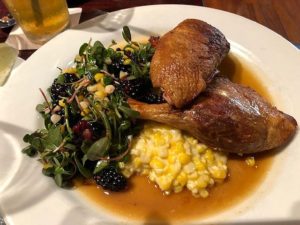 What a waste of good dining opportunities that was for me. Maybe my tastes have changed because back then my problem was finding something on the menu that called to me. This time, everything sounded appealing.
Sadly, my husband didn't go for the halibut ( so I could try it) but he did get the Parmesan Crusted Tilapia with creamed spinach which of course I tasted and was yummy.
When Chef Sarah stopped by the table to see if we were happy with our choices and I asked where she obtained some of the meats and veggies she rattled off several local farms including a Three Sisters Garden in Kankakee that raises specialty vegetables for Chicago area restaurants and Mick Klug Farms in St. Joseph, MI.
I loved the "Three Sisters Garden" Corn Fritters and the amazing honey corn butter that accompanied it that was on the day's special menu.
Chef Sarha also noted that people interested in fresh vegetables and fruit can not only find them at farmers markets such at Lincoln Park's Green City Market which she co-founded, but they can also meet the farmers and learn about the farms.
Someone might think that after Chef Sarah won two James Beard Foundation awards (Rising Star Chef and Best Chef Midwest) and after Chef George took first place in The Bocuse D'or and won top prize in the International Bocuse D'or competition in Lyon, France, both while at the Ritz Hotel, the two culinary stars would have  opened a fine-dining establishment.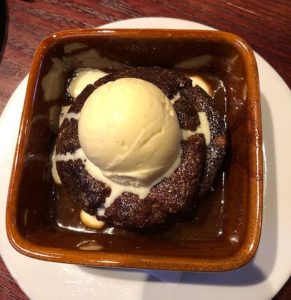 Instead, Prairie Grass is comfortable and casual and its menu reflects its chefs' apparent aims to choose locally sourced ingredients and sustainable fish. It also features a wide-range of dishes from a sirloin burger and prime filet to seared ahi tuna and a mushroom veggie burger.
The dessert menu is also appealing. I really wasn't going to order a dessert but was curious about the restaurant's Sticky Toffee Date Cake with Vanilla Ice Cream. Heaven! I did share it so I won't count the calories.
What I will do is go back to Prairie Grass.
Prairie Grass Cafe is at 601 Skokie Blvd., Northbrook, IL For more information and reservations call (847) 205-4433 or visit Prairie Grass Cafe.