You hear locally sourced  and sustainable sources but I learned that at some restaurants it may refer to just a couple of items. At Frontera Grill, the slightly older, casual, sister restaurant of Rick Bayless and wife Deann's sophisticated Topolobampo, all that curious eaters have to do is look on the Frontera lunch menu to see exactly where fruits, veggies, meats and cheeses originate.
Coming from the Bayless kitchen, Frontera Grill's dishes, sauces and presentation are in the gourmet category, but this front-of-the-building eatery is more casual, welcoming and more wallet-friendly then the upscale Topolobampo.
Both restaurants deserve the raves they get. Topolobamp, founded two years after Bayless opened Frontera Grill in 1987, is more for special occasions or for treating yourself to a Michelin star (2017) and James Beard Outstanding Restaurant Award (2017), multi-course, hundred dollar-plus, tasting experience.
Tip: Go to Topolobampo for lunch to get the Topopo in 60 tasting of three courses for $25.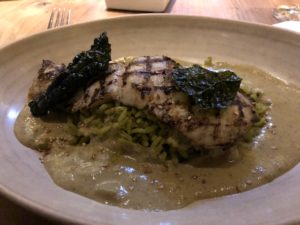 However, lunch and dinner at Frontera Grill is still a treat even though the restaurant is affordable.
The fresh shrimp, ramp mojo (local ramps) dish with olive oil, herbs, lime, spicy tomato rice and sunflower shoots is $22. And the street food lunches of northern-style quesadillas and enchiladas are yummy and served with black beans and a salad for $14.
But recently I went to Frontera Grill for dinner.
Tip: A limited number of reservations are available but best is to arrive before the doors open at 5:20 p.m.
I chose July's featured fish (halibut) with green sesame pipián that is a well-thought-out mix of sesame, tomatillo, hoja santa, epazote and cilantro served on herbed green rice and topped with crispy kale for $29.
I like halibut in all its preparations from blackened to grilled but the Frontera Grill dish was more inventive than others I've had. (The kitchen is overseen by Chef de Cuisine Richard James.)
Maybe that is why I try to return here. Plus the restaurant has great margaritas and a fun Mexican vibe.
Frontera Grill and Topolobampo are at 445 N Clark St,Chicago, IL. For reservations, hours and other information call (312) 661-1434 and visit Frontera Grill and Topolobampo.