If you'd like to add more seafood to your diet, but you're concerned about the fragile marine environment, Wild Alaska Pollock is an excellent choice. The fish is abundant, sustainable, healthy and delicious.
Chicago-area food and travel writers recently were invited to dine and learn at a media event sponsored by Trident Seafoods, the largest seafood company in the U.S., and Eden, a West Loop eatery with a new take on fresh American cuisine.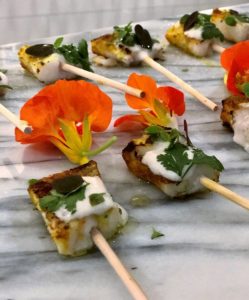 On the menu that night were lettuce wraps, kabobs, tempura and more, all created from Wild Alaska Pollock by Eden's Executive Chef Devon Quinn. The starring entreé was wood-grilled pollock wrapped in banana leaves with fava beans, radish, tomatillo salsa and lulo aioli.
"As the oceans are over-fished, it's important to use things sustainably," Quinn said. "Most of the fish we use here are sustainable or farmed. It's great to see something that meets our standards.
Wild Alaska Pollock is the most abundant certified-sustainable seafood species on the planet. The industry is highly regulated to keep the population at optimal levels. Plus, because Wild Alaska Pollock is a smaller fish, 12 to 20 inches and 1 to 3 pounds, there is less incidental catch of other species.
Chef Quinn added the fish to Eden's menu: Tempura Wild Alaska Pollock sandwich with Gochujang remoulade, iceberg, pickled shallots and dijon.
Wild Alaska Pollock is a mild, slightly sweet-tasting fish with a snow-white color. It's a cousin to Cod but less expensive. By federal law, only pollock caught in Alaskan waters can be labeled "Wild Alaska Pollock." Fish labeled simply as "pollock" is typically  harvested and processed in either Russia or China.
Don't confuse Alaska Pollock with Atlantic Pollock. In taxonomic rankings, they belong to the same family but not the same genus. Atlantic Pollock is a darker, oilier fish with an earthier taste.
Trident Seafoods, headquartered in Seattle, not only harvests the majority of the legal fishing count of Wild Alaska Pollock, but as an industry leader, stands at the forefront of preserving the species. Smaller fisheries are following Trident's lead.
The company has long been an industry innovator. In 1961, Chuck Bundrant, then a 19-year-old native of Evansville, Ind., arrived in Seattle, looking for a sea adventure. He hired on to various fishing boats, and, after gaining some experience, invented a first-of-its-kind boat that processed its catch onboard without having to race it to shore first.
That invention led to the creation of Trident Seafoods, now in third-generation family hands. The company harvests, processes and sells Wild Alaska Pollock and other seafood across a variety of channels including restaurants, distributors, grocery stores and direct-to-consumer brands.
Analise Gonzales is Bundrant's granddaughter and the company's sales and business development manager.
We believe Wild Alaska Pollock is the food of the future," she said. "It's a superfish."
Pamela Dittmer McKuen