The problem with going to The Winery Restaurant and Wine Bar in Newport Beach, CA is deciding whether to order a selection of delectable appetizers to share such as YG's Alsatian "Pizza"of Applewood soaked bacon, crème fraiche, Gruyere cheese and white onion plus crispy Kurobuta pork belly lollipops with Cannellini bean ragout and wasabi yuzu and toasted sesame seeds  or  crispy almond-dusted calamari with lime marinated cucumber salad & spicy tomato-saffron aioli.
Or order entrees such as the slow braised Angus beef short ribs with Prosciutto wrapped asparagus, carrot  infused pearl couscous with zinfandel reduction  or Maine scallops and wild white shrimp with roasted sweet corn, Piquillo pepper risotto and crispy Pancetta and Cabernet essence or the King Salmon "a la Plancha" with a trio of organic quinoa, grilled asparagus and vine ripe tomato -basil sauce Vierge.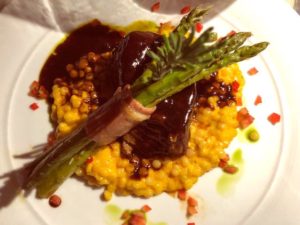 We had just done a terrific tapas restaurant up in Long Beach the night before so this time we opted for the entrees but shared a Caesar salad and a wild mushroom medley.
The salmon was excellent although that diner wasn't enthralled with the quinoa or sauce. But what drew rave reviews was the slow braised Angus beef short rib dish ordered by two of the diners. It was perfectly flavored with a zinfandel reduction and was fork tender.
Wine reductions are to be expected at a restaurant named The Winery. Partners JC Clow, William Lewis and award-winning Chef Yvon Goeta have turned out a restaurant that matches California's deservedly fine viticulture reputation while pairing it well with current food trends that still favor pork, asparagus, sea food and steak.
The restaurant's fine steak offerings likely reflect Clow's time as general manager of the Morton's Restaurant group. The English pea on the menu could be a tip of the hat to one of the noted restaurants where Chef Goetz spent time in England such as Hambleton Hall or London's Dorchester Hotel.
Because we arrived before 6:30 p.m. we were able to order $8 wines from the happy hour menu. No one ordered white wine. The consensus was the Clayhouse Cabernet Sauvignon, Paso Robles , 2015 best balanced the short ribs.
That is not to imply anything about limiting wine orders to what's on the happy hour menu. The restaurant has an extensive wine list, reportedly as high as 650 choices. In addition, anyone looking at the bottles lining one side of the entry wall will note that families and companies keep a selection of their bottles (proper temps of course) in their own cubicles.
Now that I've tried and loved the entrées, I'm ready to go back and sample some of the appetizers. Hmm, maybe the prosciutto wrapped wild white shrimp with wild mushroom and English pea risotto with champagne and chive butter.
Tip: Forget about looking for parking. Just valet your vehicle. If going while it's still light outside, you can see the marina and may want to request a window table.
The Winery has three locations. Along with Newport beach it is also in Tustin and La Jolla
The Winery Restaurant and Wine Bar is at 3131 West Coast Hwy, Newport Beach, CA 92663. for reservations and more information call (949) 999-6622 and visit The Winery Newport.