We look back fondly at the time spent years ago on southern Spain's the Costa de Sol when we traveled from Parador to Parador and café to café, loving the tapas we nibbled, the variety of paella we tried and the fruitful sangria that kept us cool during the warm early fall month.
So when a place known for its mouthwatering tapas was suggested during a recent visit to Orange County, Ca we said Yes!'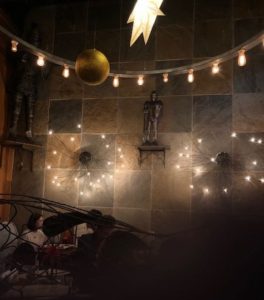 The restaurant was Café Seville in Long Beach, opened in 2006, almost 30 years after Spanish=born Rogelio and Janet Huidobro opened its parent in San Diego's Gaslamp Quarter and a few years after its sister café opened in Riverside.in 2000.
I've heard they are all good places to go for Spanish food, music and dance.
When we went to the Long Beach location, the comfortable booth area where we sat was too dark to see the murals. Possibly we were too early to hear the music – Spanish guitar one night, flamenco or Gypsy King-style another.
But we loved the tapas.
We could have started with the Crudo & Ceviche Trio of halibut and shrimp ceviche, a spicy octopus ceviche and an ahi tuna tartare crudo or the Empanada Trio of beef, wild mushroom, manchego cheese and chorizo empanadas.
But we went right for the tapas selecting The Datiles Rellenos of  Mdjool dates with cabrales bleu cheese and applewood bacon and the kalamata loaf with homemade aioli and an Andalucian tomato mixture.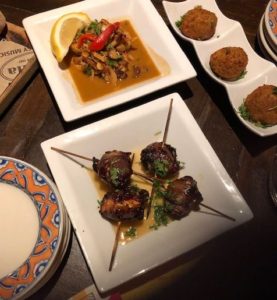 Then added the Scallops a la Plancha, a restaurant signature dish that was also on the tapas menu. I often judge a restaurant by how well the kitchen prepares scallops.Theses pan-seared diver scallops with honey sofrito and saffron oil were perfect.
We also ordered the Croqueta de Paella of Shrimp, chicken, grilled sausages, paella saffron rice & goat cheese. It was excellent and a sort of substitute dish for not doing a meal of the traditional Paella Valenciana  of mussels, clams, calamari, shrimp, pink scallops, chicken & grilled sausages. But we plan to come back and have it next time.
Lastly, we had the Gambas al Ajillo, a yummy dish of garlic shrimp, chile arbol and white wine. The problem was that after downing the shrimp and still seeing the sauce that was left, we hardly had any bread left to soak it up.
Café Seville is at140 Pine Ave, Long Beach, CA 90802. For reservations or information on the Saturday night Flamenco Dinner Show call (562) 495-1111 or visit Cafe Seville Long Beach.