The Chicagoland Food & Beverage Network, a new, nonprofit organization interested in promoting economic development and support for the area's food and beverage industry, has members ranging from ARYTZA and DFA (Dairy Farmers of America) to Tiesta Tea and United Fresh Produce Assoc. with companies such as Kellogg's and Kraft/Heinz in between.
CFBN is sponsoring two forums in Chicago in January that anyone in the Midwest (or beyond) connected with those businesses should know are available.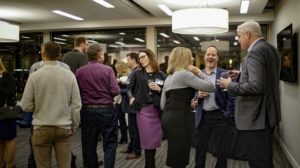 Industry Insights 2019 – What does the year ahead hold for the Food & Beverage Industry. Jan. 23, 3:30-6 p.m. at Technomic, 300 W. Riverside Plaza #1600. To register or learn more click Industry Insights event
Natural Foods Forecast 2019: What are the top trends in the market's hottest category (presented with SPINS) Jan. 30, 5:30 to 8 p.m. at WeWork, The National building, 125 S. Clark St., Chicago. To learn more and register visit Natural Food Forecast event.