Consider a wine discovery vacation this summer or fall. Every state now boasts a wine region so finding a wine destination is easy. The challenge is deciding which one to choose this year and where to go next.
Among my favorites is  Ontario, Canada's Niagara Peninsula. When I first started going there, admittedly for Niagara on the Lake's famed Shaw Festival, it was easy to visit the region's couple dozen wineries. They were all worth a stop because they all offered something different in atmosphere, taste, facility tours and lunch possibilities.
The next time I visited, the region grew to about 50 wineries. I saw more but didn't have time to visit them all. Now, in 2018, there  are approximately 96 wineries in the Niagara Peninsula Appellation.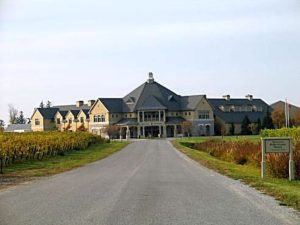 Among the reasons is its favorable climate. Protected by the Niagara Escarpment, It basically covers the area on the southwestern side of Lake Ontario northeast of Lake Erie. The area is often thought of as Ontario's "fruit basket."
I've driven there via the Canadian route from Toronto and on the US route along the southern shore of Lake Erie across northeastern Ohio (which also has a great wine region) and on to a bit of Pennsylvania and New York to Niagara Falls then into Canada.
Either way I made the charming town of Niagara-on-the-Lake my headquarters.
Taking the Canadian route means enjoying the wineries, fruit stands and cute towns that dot Regional Road 81 (Highway 8) as it runs parallel to the QEW after Hamilton. Reach it by heading south from the QEW at Fifty Road, Exit 78.
Then merely follow the numerous signs posted by the Wine Council of Ontario. They are bluish purple rectangles with a white grape cluster and arrow that says "Wine Route."
There are so many more wineries now, I know I have to return (if you go please comment on this site with places you liked). But among those I loved on my last trip was Vineland Estates, a charming 19th century winery in the aptly named Vineland hamlet.
Tour and sip here then relax in the winery's restaurant. I liked its apple-walnut-blue cheese salad and Garganelli pasta with smoked shallots and woodland mushrooms.
Or stop for lunch at Inn On the Twenty in Jordon, the next town east, where those-in-the-know like to lunch (as the season dictates), on seared sea scallops, Niagara Nicoise Salad or Gewurstraminer steamed mussels with tomatoes, shallots and spinach. Both the Vineland Estates and On the Twenty restaurants are among the Toronto area's top dining destinations.
To try your hand at wine making, stop at Hillebrand Estates. It recently underwent major remodeling to up the wine-tour experience. It's not for wine aficionados who are looking for their next favorite small batch, out-of the way winery. It's commercial but fun and an experience.
To feel like you have left the town to the tourists but actually stay within a 12 to15 minute walk to shops, consider staying at the Riverbend Inn & Vineyard.  An 1860's Georgian mansion with good-size rooms, the inn sits in the middle of a vineyard on the curve of the scenic Niagara River Parkway.
On the last trip I stayed elsewhere because the Riverbend was fully booked but I went there to eat. The bourbon and honey pecan-crusted breast of capon was such a treat that I returned for breakfast. Sharing the dining room with inn guests was not a problem in late Fall. The wild mushroom, goat cheese omelet and vineyard view were worth the return effort.
Eating at Riverbend actually introduced me to the European-style chateau visible across the vineyard through the restaurant's French patio doors
The chateau was Peller Estates, an amazing  winery known for its award winning ice wine (and upscale lunches). I don't like most ice wines because I find them cloyingly sweet but Peller's was a treat. Visitors can get a quick, wine-sipping 101 lesson. The winery also serves a decent lunch which can be smoked salmon bisque with crème fraiche or fresh Dungeness crab and arugula salad.
Of course you will be bringing back a bottle of wine or having a case shipped but another fine souvenir would be a jar picked up at Greaves Jams & Marmalades on Queen Street. The company's pure fruit products are famous throughout Canada.
What you need to know: Folks coming for the Shaw Festival book their hotel, B&B and inn rooms ahead of time so best bet is to do the same. You can find room and wine tour help from the Chamber of Commerce and Visitor Bureau offices.
If you have noticed that I not only like wine but travel on my stomach you are absolutely right.
Enjoy!
Jodie
©Photos by Jodie Jacobs