It doesn't matter what kind of food regime (let's not call it a diet) you are on or if you need ideas about what to have for dinner or what to put together for guests, you are likely to find answers at the French Market in Chicago's West Loop. I found a lot to love and take home when the market recently held a welcome-to-spring event to see what vendors were featuring.
Here are some findings: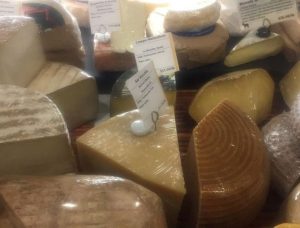 To impress guests or just treat yourself ask the folks at Pastoral Artisan Cheese, Bread & Wine for suggestions. I loved the creamy Cremont, a mixed goat and cattle  milk  cheese. To take home really great pastrami go next booth over to Fumare Meats & Deli.
If looking for something so you don't have to fuss with yourself, look at the menu at The French Lunchbox across from Fumare or at K-Kitchen which makes a yummy Japchae dish. It's Korean sweet potato noodles with vegetables. K-Kichen is opposite the seating area.
Speaking of the seating area, this is a good place to meet friends for lunch because they will have lots of choices, even if they want vegan, kosher or are just plain picky. Dishes are fast but made to order.
With close to 30 vendors, the choices range from poke at Aloha Poke to Vanilla Patisserie. In between A and V are treats such as the Passion Fruit Green Tea at B.I and sweets from Lolli & Pops.
The Market is easy to get to because it is an easy walk from the Loop to pick up stuff after work and accessible by bus, train  and 'L.' Located on the Concourse of the Ogilvie Transportation Center, it spreads out from Clinton Avenue to Canal Street between Washington and Randolph. The French Market is street level under the Ogilvie tracks so it is easy to pick up something before going up to the train. Chicago French Market entrances are at 131 N. Clinton Ave. and 118 N. Canal Street.
Paris' largest market operator, the Bensidoun family, manages the Chicago French Market. It also operates 11 Chicago area summer weekend markets.
©Photos by Jodie Jacobs, 2018