Everything at Koya is fresh, delicious, perfectly made and presented, whether from the Sushi Bar, the Appetizers, Salads, Noodles or Dinner Entrée menus – which actually makes it difficult to decide what to order.
Best is to go with friends so items can be tried and shared.
From the outside, Koya appears to be a simple, small Japanese store-front. Appearances can be deceiving.
Inside, the place is divided into pick-up area and dining room.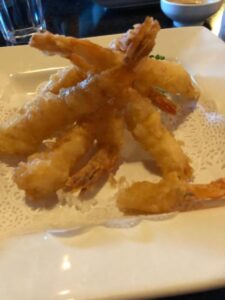 If you absolutely have to have a dinner recommendation for a first time visit, try the Tempura Dinner of lightly battered/golden fried, 10-piece Vegetables, or 7 piece Shrimp or a 12-piece Combo.
Our dinner of Tempura Shrimp came with a wonderfully tasty miso soup, perfectly sticky white rice and house-made tempura sauce that we liked for dipping the tall branches of shrimp. It ended with mochi (a tiny ice cream ball) choice of strawberry, vanilla, green tea or chocolate.
Koya also does a Teriyaki Dinner of Chicken, Beef or Salmon and a Tempura-Teriyaki combo.
Or take advantage of the restaurant's selection of Sushi and Sashimi including combos.
However, it also has a Bento Box on the dinner menu that includes tempura and teriyaki plus sides of nigiri (tuna, salmon, ebi) and California rolls.
Next time, we're going with friends.
Koya is at 508 E. Old Elm Rd., Highland Park, IL just west of the METRA tracks. (847) 266-0891. 
Hours: closed Monday, open Sun-Thurs. 4-9 p.m. and Fri-Sat 4-9:30 p.m.
For more information visit Koya Sushi.