The James Beard Foundation and US Chief of Protocol ambassador Rufus Gifford working with Secretary of State Anthony Blinken have formed the Diplomatic Culinary Partnership in the hopes that food and hospitality can officially become a  raison d'etre of an international diplomatic partnership.
To accomplish this they pulled in the American Culinary Corps whose membership consists of more than 80 of the United States' top chef and culinary professionals and signed a memorandum of understanding on Feb. 9, 2023.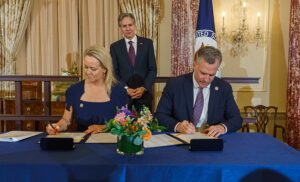 Working with the State Department, their next steps involve setting up programs and events.
  "Together we recognize the power of food in cultivating human connection, and as a compelling expression of heritage and culture," CEO Clare Reichenbach said at the signing ceremony and reception.
"A shared meal and the story behind the plate can foster real empathy, can engender cross-cultural understanding and recognition of where we have been and where we are going as a society," Reichenbach said. 
To kick off their roles as ambassadors of American food and culture, official blue chef's jackets were handed out to those American Culinary Corps members who attended the ceremony.
Learn more about the ceremony and the Diplomatic Culinary Partnership at Beard Partnership.