While working on a series on where to go and what to do when visiting Big Ten schools that your kids either are attending or considering, I did dinner at Sardine in Madison, WI.
I loved the oyster bar, a salmon dish and the atmosphere. That was almost 20 years ago, shortly after co-owner/chefs John Gadau and Phillip Hurley opened their bistro/bar in 2006 in what had been a tobacco/icehouse in Machinery Row.
I was surprised, though delighted when the people we were visiting in 2022 suggested we go there for brunch.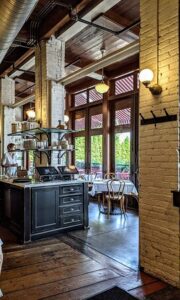 I had thought of the restaurant as specializing in fresh seafood however the brunch menu was trés Français.
It still had the Machinery Row vibes and lake view I liked years ago but the brunch menu was a surprise, ranging from Croque Monsieur and Brioche French Toast with crème fraiche to Omellettes –  spinach with goat cheese and bacon, gruyère cheese with ham and brie with mushrooms. They all were served with mixed greens and frites.
I love ham and mushrooms and each of the cheese selections but was in a spinach mood. I'll just have to come back but not wait 15 years.
The service was also excellent.
Sardine is at 617 Williamson St., Madison, WI. (608) 441-1600. For reservations and more information visit Sardine.