Don't be surprised to find an excellent authentic Mexican restaurant in Highwood, IL
Just as Italians from specific regions of Italy settled in Highland Park and Highwood back mid 20th century and opened restaurants reflecting their native cuisine (I remember Scornavacco's on Washington Street that later continued its old family recipes at Washington Gardens that still exists), immigrants from south of the US border now come to Lake County IL where many of them have opened restaurants in Highwood and Highland Park.
One such eatery, Doña Paty's, a tiny restaurant situated at the end of a strip mall across from Fort Sheridan, is pleasing diners who appreciate well-prepared Mexican dishes with flavors, sauces and ambiance that reflect the cuisine and colors of Pueblo, Mexico.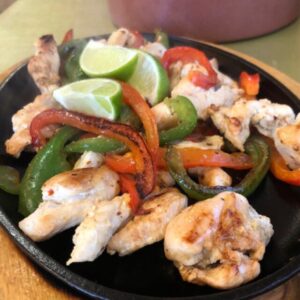 Dishes range from Huevos Rancheros on corn tortillas and Breakfast Burritos with house potatoes to eight different kinds of tacos, a variety of tortas, burritos, huaraches, quesadillas and fajitas for lunch to Moble Poblano and specialty tacos and enchiladas for dinner.
During a recent visit the restaurant was busy with dine-ins and take-outs that kept its three chefs in back constantly turning out orders.
While waiting for our noon meal, my frequent dine-out friend and I feasted on wonderful home-made nachos we dipped into a mild sauce with a very slight zing.
We shared the Breakfast Burrito of perfectly done scrambled eggs and yummy potatoes of my friend's order and the flavorful Pollo Fajita served with rice and beans of my order.
Everything was so good, without exception, that we both plan to return to try other dishes.
We also loved the place's cheerful colors and patterns indoors and on an outdoor patio.
*Note I personally can't have highly spicey foods so was happy with how the flavors were allowed to stand out in our dishes. However, diners can have or make their food as chili hot as they wish.
Find Doña Paty's, at 848 Sheridan Rd., Highwood, IL 847-926-3219. and at Doña Paty's – Authentic Mexican Cuisine (donapatys.com)