Walking into Diver Cantina, a recently opened Mexican restaurant in north suburban Highland Park, I felt as if I were back in Puerto Vallarta.
Palms and other Caribbean plants surrounded booths and tables instead of touristy knickknacks,.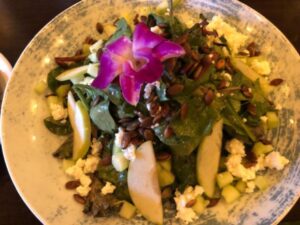 The Guacamole bar included a mango and a lobster choice. The ceviche bar included shrimp mango and a mahi choice. Coconut mussels were also on the menu. I will definitely come back for dinner and cocktails. My friend and I were there for lunch which wasn't as crowded as dinner.
We decided to share the Coastal Salad which has spring mixed greens and kale, green apples, roasted pumpkin seeds, oranges, red onions, cucumber and, goat cheese, tossed with a tamarind vinaigrette. The dressing was good but ask for it on the side so it doesn't overwhelm the ingredients.
We also shared and an order of Shrimp Tacos on blue corn tacos. The order came with pacific shrimp, and small sides of mango, Pico de Gallo, rice and beans.
Everything tasted fresh and flavorful so we want to return to try the fajitas and enchiladas.
The Market Vegetable Fajitas sounded interesting. It included broccoli, cauliflower, brussel sprouts, shiitake mushrooms, grilled onions, and a bell pepper trio sautéed in garlic tomato sauce.
I also liked the sound of the Brisket Enchilada which has slow cooked pulled brisket in garlic guajillo sauce served in three corn tortillas, oven baked Chihuahua, Oaxaca, and Cotija cheese that comes with a choice of salsa (red tomato, green tomatillo or mole sauce.
Clearly, restaurateur Adolfo Garcia and Executive chef Francisco Rodriguez value high quality ingredients. Coupled with the vacation-like atmosphere, Diver Cantina is more Malibu where Garcia also has a restaurant, than corner food-truck fare.
Diver Cantina is at 1850 Second St., Highland Park, IL. Reserve online or call 847-790-4739. Find more information at Diver Northshore.