Grilling burgers out on the patio, the deck or wherever, season is definitely back. Among the good cookbooks sent to me to try out and review is Gregory Berger's Buns & Burgers, published by Mango, Coral Gables, 2019. Berger includes bun recipes to go with each burger that are excellent if you have a stand mixer with a pastry hook. (I did but recently loaned it so I just used good, from-a-bakery buns for this recipe.)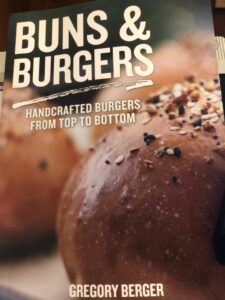 Berger's Mushroom Swiss Burger (makes four)
Ingredients
1 lb. ground beef
Mushroom sauté (see recipe below) (Good to have for other dishes)
Dill Pickle Rémoulade (see recipe below. This is spicy so adds heat. Adjust to your taste) (Also good for other burgers)
4 slices Swiss cheese
4 leaves of red leaf lettuce
Directions
Divide beef into four equal patties and generously salt and pepper. (I found that most chefs use an abundant amount of salt and pepper so do this to your taste)
Put on grill for 4 to 5 minutes on one side, flip for another 2 to 3 minutes then add a slice of Swiss cheese.
When cheese is melted remove the burgers.
Cut buns and butter and toast them (This is a good idea for any buns you use for any burgers. For this recipe you can also do a light smear of blue cheese.)
Starting with the bottom half of the buns add Dill Pickle Remoulade, then a piece of lettuce then the burger patty topped with melted cheese. Then add a scoop of mushroom sauté and add the top bun. (Burger pairs this with his blue cheese poppy seed buns)
Mushroom Sauté
Ingredients
1 Tbs butter
Cup thinly sliced onions
1 clove garlic finely chopped
1 cup thinly sliced cremini mushrooms
Another Tbs butter as needed
Tbs chopped fresh thyme or rosemary or mixture
Directions
Sauté onions and garlic in tbs butter on low to medium heat until soft and golden. Add mushroom and more butter if needed until soft. Add herbs, salt and pepper to taste
Dill Pickle Rémoulade
¼ quarter cup Dijon mustard
1 cub mayo (I like Helman's low-fat)
2 tsp pickle juice
1 Tbs finely chopped dill pickle
1 tsp hot sauce
1 garlic clove chopped
1 Tbs smoked paprika
2 tsp Cajun seasoning
1 Tbs chopped parsley
Directions
Combine all ingredients and refrigerate for a few hours to meld.