Know that May 5, "Cinco de Mayo," is not a celebration of Mexican Independence.  The date commemorates  Mexico's victory over the French at the Battle of Puebla led by General Ignacio Zaragoza in 1862. After first being saluted in California as a memorable day in Mexican history in the late 1800s, it's been embraced more in the United States than across the border.
That being said, the day, and even the week, of Cinco de Mayo, has been adopted in the United States by both people of Mexican decent and those of other cultures as a time of celebration including recognition in the arts and cuisine.
In Chicago, an installation of "Wings of Mexico" by sculptor Jorge Marin will be unveiled in the Plaza of the Americas at 4 p.m. May 5 and a Freda Kahlo exhibition at Navy Pier will be up in the Family Pavilion May 2-8, 2022.
But Cinco de Mayo is also a chance or a good excuse for people to toast the event with tequila and margaritas and down tasty Mexican dishes ranging from "street food" to high end restaurant specials. So here are some Chicago area places to try this week.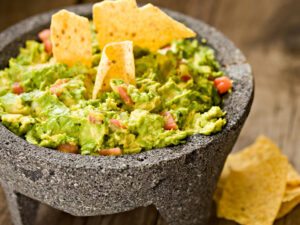 Mexican food with a gourmet touch
Tzuico is an upscale Mexican restaurant in River North with a Michelin star that has a special menu for Cinco de Mayo May 2-8. The restaurant is at 720 N State St., Chicago
Topolobampo. Famed Chicago chef Rick Bayless has an upscale, Michelin one-star restaurant at 445 N. Clark St., Chicago.
Guanajuato is a contemporary Mexican restaurant and tequila bar on the North Shore. Located in the Hubbard Woods area of Winnetka at Scott Ave. the address is 1005 Green Bay Rd., Winnetka.
Casual Mexican
Tacos Guanajuato, a sister of the Winnetka restaurant, it has street food vibes and is in the northwest suburb of Kildeer at 20771 N. Rand Rd.
Frontera Grill, Rick Bayless opened Frontera, as a good, but less adventuresome predecessor of Topalobambo, at 445 N.Clark St., Chicago.
Where to eat, drink and party for Cinco de Mayo
Thursday, May 5
Time Out Market Chicago, 5 to 9 p.m., at the Time Out Market, 916 W. Fulton Market, Chicago. For more information visit Time Out Market and  Cinco de Mayo Time Out Market Event.
Cinco de Mayo Sport and Social Club Party at the Old town Pour House, 5:30-9:30 p.m., 1419 N. Wells St., Chicago. For more information and tickets visit Cinco de Mayo Party Tickets.
Saturday, May 7
Pilsen Cantina Crawl  May 7 from noon to 6 p.m. at 1821 S. Blue Island Ave., Chicago. For tickets and more information visit Cinco de Mayo Pilsen Cantina.
Tacos N' Tequila Bar Crawl in River North, May 7 from 2 to 9 p.m. For registration, location and more info visit Taco N'Tequila Bar Crawl.