Instead of worrying about timing or how the turkey will come out, try this make-ahead (no it won't dry out) recipe from Ina Garten. Also included here is her turkey gravy (you will want it anyway). The recipe is from her "Ina Garten Make It Ahead book, a "Barefoot Contessa Cookbook," Clarkson Potter Publishers, New York, 2011. (Ed note: I picked the book up to review from Garten during a food event at Ravinia Park in Highland Park. The recipes are easy to follow and the results draw raves and "more please." )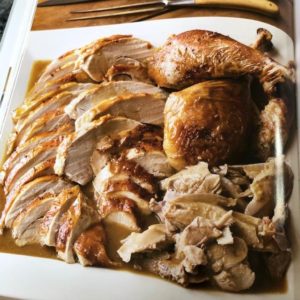 Make-Ahead Turkey  — Ingredients
Have on hand: Kosher salt and freshly ground black pepper. Also kitchen string
1 (12-14 lb fresh turkey
1 Tbs minced fresh thyme leaves  Grated zest of 1 lemon
1 large yellow onion unpeeled and cut in eights, 1 lemon quartered and 8 sprigs fresh thyme
4 tbs (1/2 stick) unsalted butter, melted
Make-ahead turkey gravy (recipe below)
Instructions
Two or three days before you plan roast the turkey, combine 3 tablespoons of salt, minced thyme and lemon zest.
Wash turkey inside and out, drain well and pat all over with paper towels
Sprinkle 1 tablespoon salt mixture in turkey cavity and rub rest on skin including under wings and legs.
Place turkey in shallow dish just large enough to hold it and wrap all tightly with plastic warap.
Regrigerate for one or two days.
Day before roasting, remove plastic wrap and leave turkey in fridge to dry out skin and turn it a little translucent.
Preheat oven to 325 degrees.
Put turkey in large roasting pan, discarding any juices in the dish
Place onion, lemon and thyme springs in cavity
With kitchen string, tie legs together and wings close to body.
Brush turkey with butter and sprinkle generouslyh with salt and pepper
Roast turkey 2 to 2 ½ hrs until breast meat registers 165 degrees (thermometer goes in sideways)
Remove from oven and place turkey on platter.
Cut off legs and thighs and put them back into roasting pan covering the breast and carcass tightly with aluminum foil.
Place roasting pan back in oven for 15-20 minutes until dark meat registers 180 degree.
Remove dark meat to platter with turkey, cover tightly with aluminum foil and allow to rest at room temperature for 15 min.
Pour ¼ in. layer of gravy into large (12 x 16 in. ovenproof serving platter.
Carve turkey and arrange artfully on top of gravy.
Place platter uncovered in oven for 15-20 min
Until turkey is very hot.
Serve with extra gravy on the side
Make Ahead Turkey Gravy with Onions & Sage —Ingredients
6 Tbs (3/4 stick) unsalted butter
1 large red onion, halved and sliced 1/4 in. thick
4 large garlic cloves, peeled and halved
6 Tbs all purpose flour
4 c good chicken stock (preferably homemade
2 Tbs Cognac or brandy
10 large fresh sage leaves
2 bay leaves
Kosher salt and freshly ground black pepper
1 c dry white wine such as Pinot Grigio
Instructions
Melt butter in large saucepan over medium heat.
Add onion and garlic and saute stirring often for 15-20 minutes
Onion should become brown and start to caramelize
sprinkle on flour and cook, stirring constantly for 11/2 minutes.
Stir in chicken stock, Cognac, sage leaves, bay leaves, 2 tsp salt(to taste depending on saltiness of chicken stock) and 1 teaspoon pepper
Bring to boil, lower heat and simmer for 20 minutes, stirring occasionally.
Set aside at room temperature for 1 hour and strain pressing the solids lightly and then discard them.
refrigerate until ready to use.
After turkey is cooked, remove it to carving board to rest while you finish gravy.
Place roasting pan on stovetop over medium heat and add wine.
Bring to a boil, lower the heat and simmer for 2 minutes, stirring and scraping up all the bits at bottom of pan.
Slowly whisk gravy base in the pan. simmer for about 5 min. until gravy is smooth and slightly thickened. Taste for seasonings and serve.