Two hot-button topics, equal rights and eating out, are celebrated together for six days in the Chicago area during Women's Restaurant Week. Supported by the James beard foundation, Illinois Restaurant Association and Choose Chicago and presented by "Let's Talk," the event appropriately started August 26 on "Women's Equality Day" and continues through Aug. 31, 2020.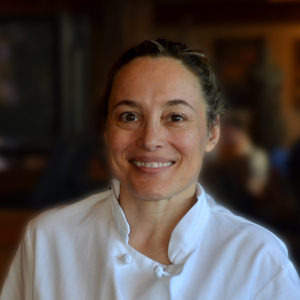 Northbrook's Prairie Grass Café owner Chef Sarah Stegner, recently featured during WGN TV's Lunchbreak, is among the women chefs and restaurateurs encouraging the public to not only schedule in a visit to a woman-owned restaurant, but also support farms and products made and sold by women.
During her WGN TV appearance, Stegner used ingredients from an apple orchard and farms headed by women.
"The idea came out of a "Let's Talk" group zoom call with women chefs involved in the James Beard Foundation," said Stegner, a two-time James Beard Award winner. "It was smart to band together to face the COVID19 challenges, learn from each other and encourage customers to support our women-owned restaurants," she said.
Prairie Grass will offer pre-ordered, curbside pickup  dishes throughout the week that will feature a protein with sustainable produce from Nichols Farm & Orchard, Three Sisters Garden and Mick Klug Farm, for curbside pickup. Stegner is a founder of Green City Market and a long-time supporter of sustainable, local food.
Other participating chefs and restaurants include Beverly Kim (Parachute, Wherewithall), Carrie Nahabedian (Brindille); Danielle Dang (HaiSous);  Amy and Clodagh Lawless (The Dearborn), Sandra Holl (Floriole), and Rohini Dey (Vermilion).
Women's Restaurant Week led by the Chicago JBF "Let's Talk" Forum, is open to all women-owned restaurants, bakers, and food-related and beverage businesses. Each business will offer a special dine-in meal, product for sale, delivery, or pick up offer to showcase their business to Chicagoland.
Partial list of Women's Restaurant Week Participants: Mary Aregoni (Saigon Sisters), Deann Bayless (Frontera Group), Dana Cree (Pretty Cool Ice Cream), Danielle Dang (HaSous​), Diana Davila (Mi Tocaya), Rohini Dey (Vermilion) and a JBF trustee and Let's Talk founder, Sophie Evanoff (Vanille Patisserie), Theresa Ging (Sugar Bliss Cakes), Mindy Gohr (Bittersweet), Sandra Holl (Floriole), Beverly Kim (Parachute, Wherewithall), Amy & Clodagh Lawless (The Dearborn)​,Kristen Barnhisel & Cynthia Lohr (J. Lohr Vineyards and Wines​), Julia Momose (Kumiko), Carrie Nahabedian (Brindille), Laurence Noguier (Bistronomic​), Agnes Rapacz (TeaGschwendner​), Tigist Reda (Demera Chicago), Julia Shell & Sarah Syman (The Dandy Crown​) and Sarah Stegner (Prairie Grass Cafe).
Visit the Women's Restaurant Week website for updates and offers and Choose Chicago.
Women in the foodservice business were celebrated by JBF prior to its famed award dinner in 2019. It's pre-dinner cocktail party at the Chicago Athletic Club honored women nominees. Given the cocktail party's theme,  the question arose about trends and if there more female chefs and restaurateurs.
Most responses  were positive. Among them was that of New Orleans pastry chef Kelly Fields of Willa Jean. She later did win Outstanding Pastry Chef at the Awards ceremony, Field said she thought women were "evening out the playing field." She added, "Women are getting more visibility."