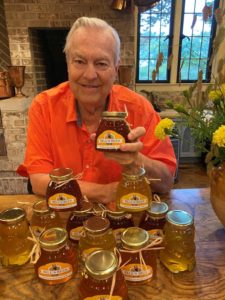 Fortunately some farmers markets are still operating during the pandemic. but lots of local farms are having trouble because the restaurants they supply are closed or also having trouble. Thus some Chicagoans have named Sept. 22 as National Eat Local Day. They are sharing tips, ideas and recipes on a free Zoom session: Zoom Link-2pm Tuesday:  https://zoom.us/j/98612924924
Participants will join Prairie Grass Cafe chef Sarah Stegner and restaurant public relations consultant Cindy Kurman in celebrating National Eat Local Day (NELD),
Included is a video presentation by Bill Kurtis that  features Bill's Bees moderated by chef and restaurant consultant Jared Batson.
"We have committed ourselves on our property to be good stewards of land including creating a pollinator attraction zone, both by restoring dormant prairies, and planting the flowers they favor.  We set up three hives six years ago, and lucky enough to reap the healthy honey our happy bees produce in two harvests every year," said Donna LaPietra, Kurtis' wife and partner. "You can taste the medicinal sweetness drawn from the prairie plants," said La Pietra.
"Our goal is to raise awareness that supporting our local sustainable farms is really important," said multiple James Beard Award-winning Chef Sarah Stegner, co-founder of National Eat Local Day.
"It is even more important this year due to the coronavirus pandemic since many of our local sustainable farms have relied on restaurants for the majority of their sales. The restaurant industry has been hard hit by this year's pandemic leaving chefs and farmers without income.  We hope that home cooks will step up to help keep these farms running by purchasing directly from a farmer or shopping at a local farmers Market.
Among local restaurants supporting the local farm economy are Frontera Grill  and The Dearborn Tavern in Chicago and Prairie Grass Cafe,  in Northbrook.