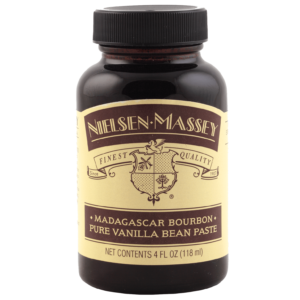 Yummy Thanksgiving sides and desserts have a second life, according to the Nielsen-Massey Company. The makers of the high end (not price but taste) vanilla and other extracts favored by bakers in the know, have come up with a few recipes to use such Thanksgiving favorites as apple pie, sweet potatoes and cranberry sauce. By the way, I keep several Nielsen-Massey extracts in my pantry because they add flavor to almost everything I cook or bake. Check Nielsen-Massey Madagascar Bourbon Pure Vanilla Bean Paste for other dishes enhanced by the flavor.
Here is their idea for a Maple Pie Crust Probiotic Smoothie using apple pie and cranberry sauce. Also check the Nielsen-Massey website at Thanksgiving Leftovers  for Cranberry Cardamom Oatmeal Streusel Bars, a Pressure Cooker Spiced Apple Sauce and a Spinach and Leek Quiche with a Sweet Potato Crust.
MAPLE PIE CRUST PROBIOTIC SMOOTHIE
INGREDIENTS
1 cup Greek yogurt
¼ cup unsweetened almond milk
4-6 ice cubes
1 slice apple pie
1 medium apple, chopped
¼ cup rolled oats
1 tablespoon cranberry sauce
¼ cup fresh or frozen cranberries
1 tablespoon maple syrup
1 tablespoon Nielsen-Massey Madagascar Bourbon Pure Vanilla Bean Paste.
½ teaspoon cinnamon
DIRECTIONS
Place Greek yogurt, almond milk and ice into a blender. Add apple pie slice, apple, rolled oats, cranberry sauce, cranberries, maple syrup, vanilla bean paste and cinnamon. Blend until smooth, about 1-2 minutes.
Pour smoothie into one large glass or two small glasses and top with sliced apple, redcurrants or cranberries and a pinch of cinnamon.