True Food Kitchen, a culinary brand that proves delicious dining and conscious nutrition can go hand-in-hand, recently opened its doors in Oakbrook Center.
The brand emphasizes wholesome ingredients with simple yet creative preparations in scratch kitchens to bring out their natural health benefits and flavors. Menus are inspired by Dr. Andrew Weil's national bestseller, "True Food: Seasonal, Sustainable, Simple, Pure" and his anti-inflammatory food pyramid meant to help people achieve and maintain optimal health. Dr. Weil is an internationally renowned author and a pioneer in the field of integrative medicine.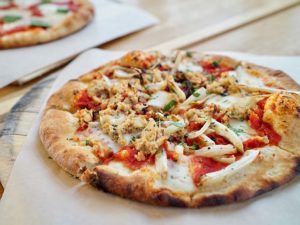 We were invited to the recent media opening at the new Oak Brook location to experience the restaurant and its diverse offerings for ourselves. Helming the restaurant are Executive Chef Michael Edgar and General Manager Scott Bradley.
The menu is segmented into starters, salads, pizzas, bowls, burgers and sandwiches (served with choice of cucumber salad, kale salad or sweet potato hash) and entrees. Freshly pressed juices, organic teas, beer, wine and handcrafted cocktails are also featured. Vegan, vegetarian and gluten-free selections are available.
"There's no freezer, no Coca-Cola, no fryer and no bacon," said our server Charlie Vasquez, who came from the Houston restaurant to help open this one. "And no peanuts–too many people have allergies."
Signature dishes include the Original Tuscan Kale Salad, Inside Out Quinoa Burger, Ancient Grains Bowl and Spaghetti Squash Casserole. Among the seasonal specials are Roasted Brussels Sprouts and Butternut Squash Pizza (gluten-free crust is available).
We began our meal with housemade sangria, a delightful creation of organic rose wine, spiced brandy, pineapple and lime.
For starters, we had roasted Brussels sprouts (chili threads add the kick) and yummy edamame dumplings in a Dashi broth topped with Asian herbs. The chicken sausage pizza was generously topped with crushed organic DiNapoli tomato, roasted fennel and smoked Gouda upon a light, crispy crust. A hearty, grilled salmon filet was accompanied by a bed of caramelized onion farro, arugula, roasted beets and cilantro pumpkin seed pesto.
For dessert, we enjoyed a dense, flourless, chocolate cake with a side of vegan vanilla ice cream strewn with cocoa nibs. Just the right amount of sweetness.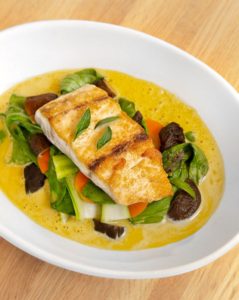 "Once you start eating our food, you start craving it," Charlie said.
We agree–we're already thinking about our next visit.
Founded in Phoenix in 2008, True Food Kitchen has grown to 29 restaurants in 13 states. More are in development.
The Oak Brook restaurant is located at the site of the former Stir Crazy Fresh Asian Grill within the outdoor shopping center. The decor is cheerful and lively, awash in natural woods and verdant accents. Eco-friendly materials are thoughtfully utilized throughout, including hardwood floors and dining chairs made of recycled soda bottles.
The main dining room seats 172 guests, and the cozy covered patio seats another 28 guests. A bar faces the open kitchen and two large overhead television screens.
True Food Kitchen, 105 Oakbrook Center, is open for lunch, dinner and weekend brunch. For more information, call (630) 716-3056 or visit TrueFoodKitchen.
–Pamela Dittmer McKuen