Going through the cookbooks I've collected I came across one that was in my husband's family from their years in the Black Hills.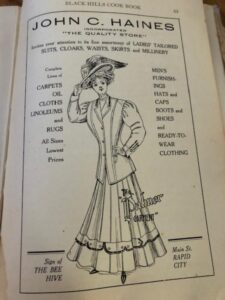 Dated August 1908, it is "A collection of favorite recipes contributed and compiled by the Baptist Missionary Society of Deadwood, Presbyterian Ladies Aid Society of Lead, Presbyterian Ladies Aid Society of Rapid City, Presbyterian Works of Sturgis and Presbyterian Ladies Aid of Whitewood.
The book is "Dedicated to the Women of the Black Hills who have kindly furnished us their recipes and to the business men who have responded generously with their patronage."
Chicken Salad
(Contributed by Mrs. L Eaton of Sturgis)
Instructions
Boil the chicken and cut across the grain into small pieces.
Add two thirds as much celery as chicken and three quarters cup of English walnuts.
Dressing – Pour three tablespoonsful of hot vinegar over the yolks of three well beaten eggs. Set on back of stove to thicken.
In a cup stir together one-half teaspoon pepper, one-half teaspoon mustard, one half teaspoon salt.
Add eggs and vinegar, then pour over chicken.
Just before serving add one cup sweet cream. Stir with a fork lightly.
An introduction reads:
"Each recipe is plain and tried,
And some good housewife's honest pride,
Some home's delight,
And should your efforts bring no prize
I'll not say where the trouble lies,
'T were impolite."