There is so much to love about autumn from red maple leaves and red delicious apples to dark beer, Oktoberfests and golden-hued squash soup that warms chilly nights.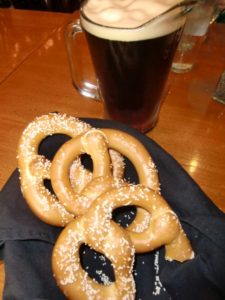 Among my favorite fall outings is a stop at The Berghoff, a classic Chicago German café and restaurant on Adams that has been family owned for more than 121 years. I have to taste whatever beer they are now doing in their brewery accompanied by a giant pretzel and corned beef sandwich.
Because of the pandemic, I have been doing more cooking than eating out so I turned to cookbooks I had been planning to review including the Berghoff Family Cookbook for its butternut squash soup recipe.
Written by Carlyn and Jan Berghoff with Nancy Ross Ryan,I recommend The Berghoff Family Cookbook,, (Andrews McMeel Publiching, Kansas City, MO, 2007), as a terrific, historical read and wonderful recipe resource.
.Servings: 3 quarts, serves 8-12
Ingredients
2 Tbs vegetable oil
2 c thinly sliced white onions
2 leeks split, well cleaned and coarsely chopped
1 Tbs minced fresh ginger
½ -1 tsp ground cinnamon plus extra for garnish
2 butternut squash about 4 lbs peeled and cubed (already peeled and trimmed pieces may be found at specialty grocery stores).
6 cups chicken broth plus extra for thinning
2 Tbs light brown sugar
Salt and ground white pepper to =taste
Sour cream for garnish.
Instructions
Heat oil in heavy 4 quart saucepan over medium heat
Add onions, leeks, ginger and cinnamon then decrease heat t and cover pot to simmer until onions are tender, about 15 minutes.
Add squash and cook covered for another 10 minutes until squash and onions begin to carmelize (liquefy slightly and become brownish)
Add the chicken broth and brown sugar then bring to a boil.
Decrease heat to medium low and cover. Simmer 10 min
When cool, woirk in batches to puree soups in blender or food processor
Cool and refrigerate (may be done a day ahead)
To serve, return soup to pot, simmer. Thibn soup with broth if needed and season with salt and peprr
Can be served hot or cold. Ladle soup into bowls for 1 ½ cup servings. Garnish with dollop of sour cream and sparkling of cinnamon.
(I like the variation in the recipe that calls for adding heavyt or light creamcream to the soup for richness and texture.