Lawry's The Prime Rib, an elegant restaurant that demands business casual of its diners to match its McCormick Mansion ambiance, has increased the time it has left before closing its doors at the end of the year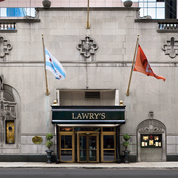 Open since 1974 in the landmark 1890's McCormick Mansion, the famed prime rib restaurant had already announced it would close Dec. 31, 2020.
But that announcement brought on a flurry of calls for reservations and take out orders thus prompting the restaurant to extended it hours to 5-9 pm daily to include service on Mondays.
"Its due to popular demand," said a Lowry's statement. "After the announcement of the restaurant's closure generated an outpouring of support and demand from its local community, Lawry's has extended its hours of operation to accommodate more guests before its last day of service." Lowry's Prime Rib Chicago is at 100 E. Ontario just west of Michigan Avenue.
For more information visit LawrysChicago.
(Ed note: Some folks may remember the building from when it housed the Kungsholm Pupper Theatre's operas and musicals)