The disappointment
After noting the buzz about Pacific Standard Time west of Chicago's Mag Mile, a fellow food writer and I decided to try it during restaurant week. Its $24 special price for three courses, starter, entrée and dessert, appeared reasonable.
The problem was that we had hoped for a good seafood dish as an entrée, not a Turkey Reuben which we could get at a deli or a Gyros which we have enjoyed in Greek Town in the West Loop area. Plus a scoop of gelato didn't appeal in Chicago's frigid temps as much as a warm piece of cake or cookie would have for dessert.
So, we ordered off the limited lunch menu. My friend chose a burger which came dry and over cooked. Asked about it, the waitress said something about patty's pre- assembled so she didn't ask how it should be done, which in this case, would have been medium rare.
I ordered the shaved Brussels Sprouts Salad because the ingredients of pears and nuts sounded good and the main protein was ham. Unfortunately, I didn't learn until after digging into what had looked appealingly like Prosciutto di Parma turned out to be local salt preserved country ham which still could have been delish. But it must not have been soaked for even a while because instead of being rich in taste it was like eating a thin slice of solid salt that even the excellent salad couldn't counter.
Our waitress, who seemed to have a why-should-I-wait-on-these-lesser-mortals attitude throughout our meal, said in disgust, "well, it's country ham."
Maybe dinner there would have been better during Chicago Restaurant Week but my friend and I who write for different publications had other choices to try.
Pacific Standard Time is at 141 West Erie St. Chicago (312) 736.1778
The surprise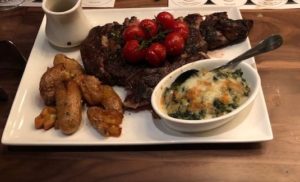 The surprise in Chicago restaurants came at the new, Magnificent Mile/Gold Coast flagship location of Cooper's Hawk. A friend who is a former restaurant critic said he was less than impressed with the food at the suburban location he tried. However, everything my friend (same restaurant critic that went to PST) and I had at what is called Cooper's Hawk Esquire, enticed us to return
Believing that sharing and sampling is the way to try a new restaurant's dishes, we found that we both loved Chef  Matt McMillin's roasted Crispy Brussels Sprouts (with cashews and sweet Thai Chili), the miso-glazed Chilean Sea Bass and the tender, tasty pistachio-crusted Australian Rack of Lamb. Another person at our table also tried and loved the bone-in rib eye.
Hopefully my schedule will allow a second sampling sometime soon.
Cooper's Hawk Esquire Chicago is at 58 E. Oak Street, Chicago.