Some restaurant diners do notice the plates their food comes on. They even notice the salt and pepper shakers. But choosing the right items to fit the atmosphere and the food presentation matters to restaurateurs and chefs, whether the patrons are aware of the dishes or not.
Wescover, an online company that works with artists, designers and ceramicists, has become a site where chefs, restaurateurs, hotels and anyone who simply wants something unique, artistic or interesting can go to either find or commission the items.
The Wescover website carries photos of artists' and designers' work and where some of their pieces can be seen. Assorted by categories from Art, Furniture  and Lighting to Tableware, Textiles and Tile, the site is like browsing through Chicago's Merchandise  Mart and the nearby studios without leaving the office or home.  And yes, individuals can also browse, connect to the designers and buy.
CEO and Wescover Co-Founder Rachely Esman, San Francisco, calls her site's artistic community "creators" and the restaurateurs, chefs and individual buyers "consumers."
Started nearly two years ago with Yoad Snapir, Israel, Esman explained she that when she moved from Israel to San Francisco she was looking for unique objects and furnishings.
"I noticed a ton of local artists are posting about their restaurant commissions," said Esman.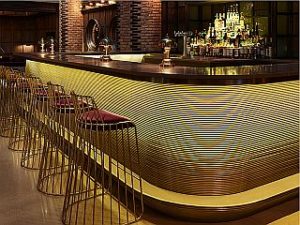 Finding what she wanted and noting the restaurants and hotels where the artists' work could be seen decided her and her friend Snapir, now Wescover CTO, to start a website company that could bring artists together with potential consumers.
"On the one hand you have the Creators. On the other side are consumers who want hard to find, unique items. Wescover solves that."
Pointing out that many of the ceramists on the site have worked with restaurants, she said, "Chefs know that presentation is important. They want something they think will look good for their presentation."
"We talk to the creators. They show their work on our website."
As an examples a ceramic oval platter by Len Carella was made for Octavia, San Francisco. Two designers, Jane Herold Pottery and Ashley Lin Pottery, have made tableware for Boka, Chicago. Martin Kastner has made fork bowls for Alinea, Chicago. (The feature photo above is an Ashley Lin Pottery piece for Boka).
The site includes design elements besides tableware. "It has designs for spaces. People care about the feel of a lace," said Esman.
An example would be Los Angeles-based  Reza Feiz' Phase Design,.
The site now has approximately 5,000 creators.