First Bites Bash at the Field Museum Jan. 24 was a great way to sample what Chicago's chefs are currently putting together in their kitchens and some of the savory and sweet dishes to try during Restaurant Week Jan. 25 through Feb. 7, 2019.
Sad to say I didn't get around to all 70 restaurants filling Field's great hall with anticing aromas.
But I did get to spoon up a bit of yummy New England Chowder with sea lams, potatoes bacon, celery leaf and black pepper that Portsmith Chicago's Chef Nate scooped into a bread bowl. I would have gone back for seconds if not for all the other tables laden with taste treats. (Portsmith is at 660 N. State. St.).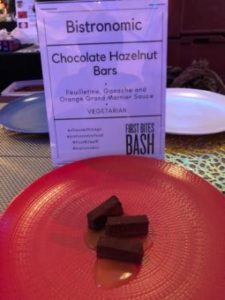 You don't worry about doing appetizers, soups, entrées and desserts in any order when browsing and sampling the dishes set out. So next I tried and fell in love with Homestead on the Roof's unusual combination in Roasted Mushroom Pelmeni. Consising of seasonal mushrooms, sauerkraut, brown butter, fried herbs and caviar it made a great appetizer. (Homestead on the Roof is at 1924 W. Chicago Ave.)
One table over was Chef Martial Noguier's Bistronomic with its famed Chocolate Hazelnut Bar of feuilletine (crushed crepes) and ganache  topped with orange Grand Marnier sauce.  Heavenly, even if I downed it before trying some of the meat, veggie and seafood samples at other tables. I always did like dessert first. Besides, I cleaned my palette with French wines at a booth around the corner.(Bistronomic is at 840 N. Wabash Ave.)
So, did a seafood, fresh farm to table (true even if phrase is overused) and French bistro stop. Time for some wine.Tried and liked Bonnet Chateau's 2014 cabernet sauvignon merlot from Bordeaux.. I'm for of a full-bodied Cab drinker but this went with most dishes I was sampling so at 50 % Cab and 50% merlot, it didn't overwhelm any of them.
Back, circling the floor, I found HaiSous's Goi Vit , Chef Danielle Dang's Vietnamese duck salad. Delish. (HaiSous Vietnamese Kitchen is at 1800 S.Carpenter St. in Chicago's Pilsen neighborhood.)
Then went over to a table that had Katana Chicago's Baked Crab Hand Roll and Fulton Market Kitchen's Wild Mushroom Arancini with dry-aged Bolognese. Enjoyed both but I happen to love crab and mushrooms. (Katana is at 339 N Dearborn St.)  (Fulton Market Kitchen is at 311 N. Sangamon St.
There's a lot more food to try. Next stop will be to take advantage of the special deals during Chicago Restaurant Week. The problem is which ones to choose and when because there are nearly 400 restaurants participating.
To help you to choose go to Choose Chicago Restaurant Week.