Whether looking for a place to breakfast on great croissants, lunch on such comfort food as pot pie or lobster roll or dine before a show at the Harris, Chicago Theatre or Oriental Theatre, folks looking for a new place with really good food should check out Free Rein.
Located on North Michigan Avenue as an adjunct to St. Jane, the hotel that just changed from Hard Rock Hotel, the restaurant is now the home of Executive Chef Aaron Lirette whose GreenRiver kitchen atop a nearby medical complex had garnered a Michlelin star.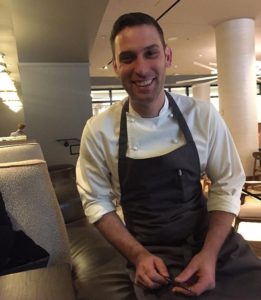 Because a friend and I had just nibbled our way through a nearby hotel opening, we limited ourselves to beef tartare there and a lobster roll to go.
I have seldom tasted as good a beef tartare. I liked that it was not prepared with the traditional accompaniments but instead had a kimchi (traditional Korean dish of fermented vegetables) of charred scallions and carrots spiced with dried Korean powder, soothed by smoked yogurt. Yum.
We ate this in the slightly more formal dining area but were drawn to the casual area up front by the pastries that lined the counter and breads on the shelf behind it. This was the prevue of Executive Pastry Chef Evan Sheridan who came to the St. Jane and Free Rein from Trump Tower's acclaimed restaurant, Sixteen.
Even though I already had taken a lobster roll to go I had to share a black garlic, Parmesan focaccia bread sliced for us so we each had half for later.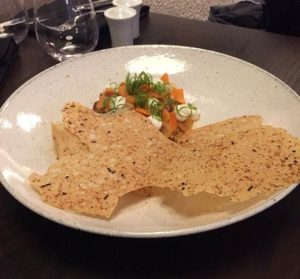 I didn't get to the lobster roll until a day later but it reminded me of the good lobster rolls I used to get when traveling in Maine.
Now, I'm looking for another chance to stop by Free Rein.
Free Rein is at 224 North Michigan Avenue Chicago. For hours and reservations call (312) 334-6700 and visit Free Rein.