If living near Chicago, it's annual Taste Of is a fun intro to the city's restaurants. But also get to know Janie's Mill, a flourishing organic grain producer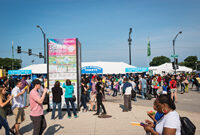 Taste of Chicago
No tickets and no admission fees for Taste of Chicago, July 8-10, 2022.
Instead, vendors will be happy to accept cash (remember what that is) and credit cards.
Also, the usual Chicago food draws such as hot dog stands and Eli's Cheesecake are back but the city's cultural mix will be evident with Arun's Thai Restaurant, Tandoor Char House and Mexican cuisine. Bands will be playing on Grant Park stages throughout the festival's three days.
Taste, headlined this year as Bites, operates 11 a.m. through 9 p.m. by Buckingham Fountain, 301 s. Columbus Dr.
For a list of restaurants visit the city's pr arm, Choose Chicago and see Taste/Restaurant & Menu .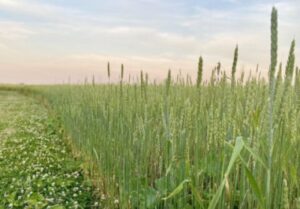 Janie's Mill Tour
Take a farm tour and get to know what fresh from the farm means when talking about wheat and other grains. Located in Ashkum, IL, Hanie's Mill organically grows, processes and sells grains used by bakers and chefs
Proud of their processes and products they offered tours in June and now again in July. Current tours are July 13 at 10 a.m. and July 28 at 1 p.m. They run about one hour and are limited to 10 people. To attend email info@janiesmill.com regarding the date and number coming.
For recipes (currently flat bread, polenta and Grainwright sandwhich buns shown above) visit Janie's Mill (janiesmill.com).
For more farm and product info see Janie's Farm Organic (janiesfarm.com).