The James Beard Foundation decided to postpone April and May awards events to summer based on updates from the Center for Disease Control, World Health Organization, and federal and local governments. But the nominee announcement will still be made on March 25 from Philadelphia as scheduled.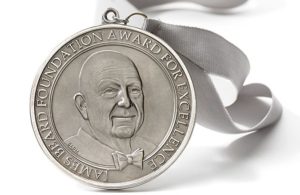 According to a statement released by the Beard Foundation, the postponement includes: "the James Beard Media Awards (originally scheduled for Friday, April 24, in New York City), the Leadership Awards (Sunday, May 3, in Chicago), and the Restaurant & Chef Awards (Monday, May 4, in Chicago). The statement added, "We will continue to work with our partners in the coming weeks to identify new dates for all three Awards ceremonies."  
Other cancelations include the  James Beard House dinners through April, Taste America and other Beard Foundation national events and dinners through April. In addition, other in-person events and programs have been canceled or postponed. 

"The well-being of our chef community, members, and guests is our highest priority, and we are working with the chefs on rescheduling the dinners for later in the year. If you had tickets for a dinner or event during this period, the Foundation will be in touch directly regarding the postponement of events," said the Beard Foundation statement.
For more information visit James Beard Foundation..